Messing with Nature
A post-Finals celebration was in order this weekend, so my friends, Mad Crank and Money, and I road-tripped to Kentucky, where we encountered lots of trees and lots of rocks.  It was awesome.
On Friday morning, Money and I dined at Pancake Pantry with our two buddies Georgeous and Chix.  Turns out, it was Chix's birthday!  These two boys were going to spend all day watching Clone Wars on Netflix.  Silly boys.  Money and I thought, wait, they should come with us for a spontaneous birthday hike!  How fun.
A bunch of my friends are in WilSkills, but Money, Mad Crank, and I were merely, shall we euphemistically say, aspiring campers.  We had an inkling of where to start.  We had rented a few sleeping pads and a tent from the Outdoor Rec the previous evening, then gathered supplies for the weekend, packed up all of our stuff, and head out towards Mammoth Cave National Park.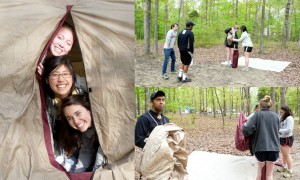 When we pulled up into our campsite, the first thing we did was to set up our tent like pros.  It turned out perfectly, if I do say so myself.  We then hopped back in the car and drove off to the Visitor's Center.  We found out that exploring Mammoth Cave cost money, but I suppose that after one of the guides saw our devastated looks, she told us about the "No-No" Cave, which under no circumstance were we to go in, and highlighted the route to get there.  Nice.  Before we went to the the cave, we hiked along Dixon Trail, courtesy of the birthday boy, where we stumbled upon a few rocks and trees, some deer perhaps ten feet away, some more rocks and trees, a bat cave, and many gorgeous scenic overlooks.  And you got it, more rocks and trees.  The best.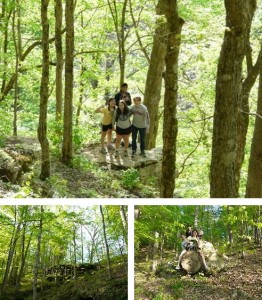 If we were to hypothetically go to the "No-No" Cave, we would have had to hypothetically jump a fence and hypothetically take pictures to document the adventure.  Hypothetically said, this experience was rather underwhelming because it really wasn't a large cave at all; just a huge dark hole in the rock.  Oh well.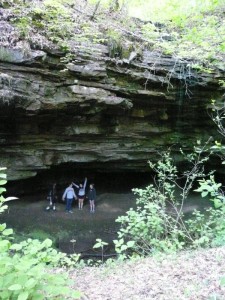 Mad Crank, Money, and I had done some thorough research on camping via Pinterest and Buzzfeed, where we learned how to start a fire, make really awesome s'mores, and craft a lantern.  We were all set to take on dinnertime and nightfall.  Into the cast iron, we put some lemon-and-basil-marinated squash, potatoes, mushrooms, and chicken, which we cooked over the fire.  All of us took a turn at stirring our main course with a stick, because we had forgotten a spoon.  That night, we feasted on our hearty dish, carrots and dip, white cheddar popcorn, and chocolate-dipped animal crackers.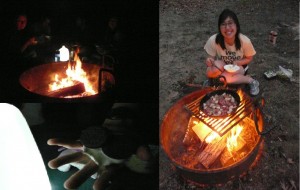 Since all of us were first-time campers, we didn't really know any campfire tales, so as we munched on some decadent s'mores for dessert, Chix, Georgeous, Mad Crank, Money, and I played that game where each person adds a sentence to the story.  Most of the time, these stories develop into weird tales or flat out flop, but ours was actually ridiculously impressive, complete with character development, plot twists, and allegories.  It was awesome.  If you ever want to know if the leprechaun princess Pheobe saved the land of Slarn or whether she got together with Sergei, brother of the usurper-to-the-throne Sasha, ask one of us to recount the story.
This was just the most enjoyable and exciting of evenings.  To top off the weekend, we camped for another night at the Red River Gorge with my friend M. and he showed us this secret clearing where we slept under the stars.