18 Reasons to be Glad You Joined the Class of 2018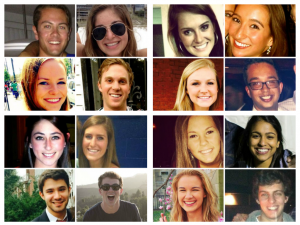 For all the newest Commodores, I could give you a million reasons why I think you made the best choice, but I decided to hand the reigns over to these guys for this one — enjoy!
Everyone is super passionate, driven and loves what they do, and that's a cool environment to be in —Ted, Junior, A&S
It's the best top 20 school to go to if you want to have fun, hands down —Nick, Sophomore, A&S
You get all the perks that Nashville as a city has to offer but when you're on campus it feels very defined and has the feel of a suburban campus — it's the best of both worlds! – Kenzie, Sophomore, Engineering
You get to go to awesome SEC sports games for free! – Sarah, Sophomore, A&S
The Commons. I come from a really tight-knit family, and I was worried about being homesick. But the Commons, Vandy's freshman-only housing, provided a unique living situation where freshman were grouped together as a community. It made it so much easier to get to know people and helped me find a home away from home at Vanderbilt. — Jack, Junior, A&S
You can act in Vanderbilt Off Broadway and still go Greek –Kyle, Sophomore, Peabody
Commons breakfast, for sure – Emma, Freshman, A&S
This is the only top academic institution where people aren't competing against each other and trying to best the curve, but instead study together wish each other luck on tests and then later ask how they went. Also, Grins quiche. – Dana, Sophomore, Peabody
I have a more multicultural experience in engineering than I would at a G12 summit – Gavin, Sophomore, Engineering
Campus is the perfect size — you can walk everywhere you need to go in a timely manner, and you can put your Tinder radius on the lowest option and still get great matches — Margaret, Sophomore, A&S
Rites of Spring! — Kern, Sophomore, A&S
I chose Vanderbilt mainly because of its location. Nashville is truly one of the best cities in the world- it has an awesome music scene, great food (because we all know that's important), fun nightlife, and a much warmer climate than most cities! — Stacey, Junior, A&S
Your Facebook albums will make your high school friends sufficiently envious of how much more fun you're having than them – Ginger, Senior, A&S
Vanderbilt is the best place for me because I was able to start my experience in schools second semester freshman year and gain the experience that I feel I need as a teacher – Melissa, Sophomore, Peabody
I love Vandy because I now I have friends from all over the country! — Morgan, Sophomore, Engineering
Stevenson library is a great environment for schoolwork —Mitch, Senior, A&S
My network of friends has become like family—we can get a framily plan on Sprint! – TJ, Junior, A&S
And if they weren't enough, I'll throw in one I added to my list this morning:
18. You're always way more excited to come to school than you are to go home — Priyanka, Sophomore, A&S
You probably already have a lot of reasons of your own, but know that in a few short months you'll have TONS more to add to that list, so anchor down and get through these last few weeks of high school so you can join us!