Project Redesign Service Project
Have you ever wanted to be on the Extreme Makeover: Home Edition? I always thought the concept of the show was cool, but I never imagined having the opportunity to create a dream room for someone. Nevertheless, I spent one Saturday morning this semester creating a dream apartment for a family of six in the Nashville area with Project Redesign.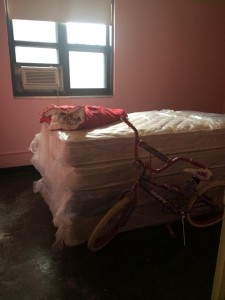 This service trip was unique in that it was outside of the usual realm of service I do. I am a Chancellor's Scholar, and one of our big goals this year is to create a greater sense of community between fellow scholars. We are achieving this through different services initiatives with different organizations throughout the Nashville area. This year, the theme for our initiatives is "A Place to Call a Home" and focusing on the issue of homelessness. One of the organizations we have been working with is Project Redesign. This organization is a non-profit that was started in 2008. The organization is closely affiliated with the Martha O'Bryan Center, a community center in East Nashville that empowers people in poverty through education and employment. Project Redesign focuses on empowerment through room makeovers for low-income families. Since 2008, Project Redesign has redone over a hundred rooms!
On this morning, we redid the apartment of a family of six. The home was in James Cayce Homes, the largest public housing developments in the Nashville area. When we entered the apartment, it was empty and there was a lot of work to be done. Since we didn't get to see the home in its original state, the volunteers from Project Redesign told us about it. They said everyone was sleeping on mattresses on the floor, and there was hardly any furniture. First, we helped unload the moving truck full of furniture. Project Redesign collects donation furniture, and chooses from this selection for the homes they remodel. After unloading, we split up and worked on different rooms in the apartment. I worked on the girl's bedroom with two other scholars. Together, we assembled two beds and decorated their room. The room was very bleak when we first arrived, but by the time we were done it looked so happy!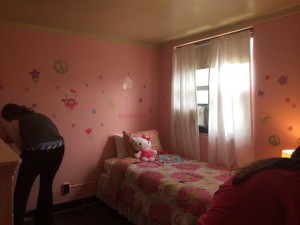 It was amazing seeing an apartment transform in just four hours. I loved walking through all of the rooms at the very end. However, the best part of the day was when the family came over to see their newly remodeled home. The children were so excited, and the mother was so thankful for our help. Seeing the power of remodeling a few rooms was absolutely wonderful. In addition, it was great to spend time with my fellow scholars and work towards a common goal. Every week I learn about a new service opportunity in the Vanderbilt and Nashville community, and I wish I could do it all! I hope to return to Project Redesign and help with another project soon!