Its Spring Time
There is only one proper way to know if it truly is Spring time and it doesn't involve staring at a Grounhog to know when its time. No, there's a much better way. Spring Football. Obviously, if there is an event called SPRING football, it must signify that it is Spring time. This past weekend, we officially started Spring.
This weekend, Vanderbilt football held their annual Black and Gold Spring Football game where Vanderbilt's Offense led by General Patton was matched against Derek Mason's New Vanderbilt defense. With Vanderbilt losing many key players to graduation, everyone was curious to see how this new Vanderbilt team would shape up.
The three main questions going into Spring camp are the following:

1. Who will lead this team? Will it be Patton Robinette, current starting QB, or the inexperienced yet talented redshirt Freshmen, Johnny McCrary? Or could it be the darkhorse, Josh Grady who takes the reigns? It's an exciting QB race and competition breeds success so it'll be interesting to see who comes out on top come time for real football. My money is on Patton being out there on the field against Temple.
2. Replacing Offensive Talent. With the loss of wideout,Jordan Matthew, Vanderbilt lost one of the greatest receivers to ever play college football in the great Southeastern Conference. Not only him, but we also lost the valuable Jonathan Krause (my nextdoor neighbour, nbd). It will be extremely difficult losing both of these key players and it will be a matter of whether our young receivers can fill the void left by these two great receivers. Hopefully players like Jordan Cunningham and Latevius Rayford can step up in this upcoming season.
3. A New Defense. Vanderbilt lost all four starting defensive backs and it will be a completely new group of players starting in the secondary. In addition to that, with a transition from the 4-3 to a 3-4 defense, it'll be a completely new defense that steps on the field come August. But with our fearless leader Derek Mason in charge of the defense, I have no doubt that we will be able to maintain the top 20 defense we have shown for the past couple of seasons.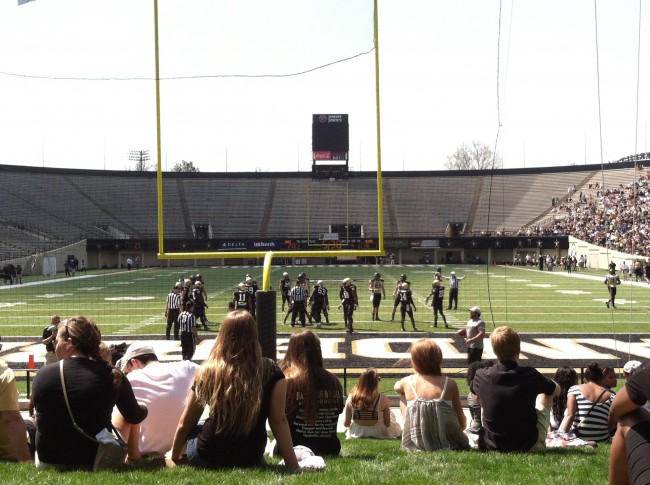 So, with these questions in mind, we entered the Spring Game where I was delightfully greeted by free food and free shirts.I mean, what else can you ask for in life? A nice warm biscuit and gravy with some sizzling bacon freshly extracted from a pig. And then when you're done, you've got yourself a new free T-shirt with a nice frocket to go with it. Then you're sitting in the South end zone on top of the new fancy hill we've installed at Dudley Field and watching the Commodores scrimmage before your very own eyes. This is the stuff that dreams are made of.

There's only 4 months left until our first game. (That's a really long time). But the wait will be worth it. We're in for a good season of football. Anchor Down.
2014 Vanderbilt Schedule
Aug. 28: Temple (Nashville)
Sept. 6: Ole Miss (Nashville)
Sept. 13: UMass (Nashville)
Sept. 20: South Carolina (Nashville)
Sept. 27: at Kentucky (Lexington)
Oct. 4: at Georgia (Athens)
Oct. 11: Charleston Southern (Nashville)
Oct. 25: at Missouri (Columbia)
Nov. 1: Old Dominion (Nashville)
Nov. 8: Florida (Nashville)
Nov. 22: at Mississippi State (Starkville)
Nov. 29: Tennessee (Nashville)