I HAVE A BUNNY NOW!!!!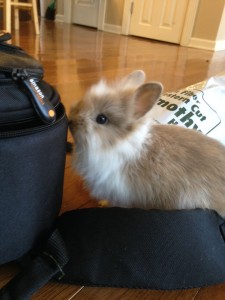 Yeah. You see that? That's a bunny. For Easter this year, I finally convinced my mother to buy me a bunny. How else am I supposed to survive a summer away from Vanderbilt? My bunny's name is Olly, and he is 100 degrees of adorable. Sadly, he had to stay at my home in Kentucky while I finish out the semester.
He's actually my biggest motivation for getting through this week because it's that time of year again…FINALS WEEK (DUN DUN DUNNNN)!!!!!!!!
As you can tell by my liberal use of both caps lock and exclamation marks, I am stressed out. I have finals to study for and massive papers to write, and I am pretty nervous about all of them. However, I know I have a little bunny waiting for me at home, so that makes the weight of the world a little lighter.
I have made a lot of lists, purchased a lot of coffee, and found permanent residence in Central Library. I am prepared, and I am bunny-inspired.
It is going to be a very long week, but I have made my mom promise to send me pictures of my bunny so I can make it through. Move-out is rapidly approaching, and time is dwindling down, but Finals Week will keep me so busy that I won't be thinking about that.
So here's to a week of tests and bunnies!