Choosing the Right Dore
Soon, you will be all receiving your regular decision letters from the colleges that you have applied to. And within a month, you'll have to decide which door you want to enter for the next four years of your life. This is a short post on why you should open the correct dore and become… a Commodore.
Now, in this post, I will be making arguments to convince you to choose Vanderbilt. Most will be completely irrelevant in an actual college decision making process, but I figure someone has to mention the little things. If you want more serious posts on why you should pick Vanderbilt, you will find them here. If you are thinking about pre-med, you should check out this amazing post.
Before I get into changing your minds, I just want to point out how unnecessary it is that all schools make their regular decision available on April 1st. Of ALL the days of the year, it had to be April Fools Day. I think the best April Fools Prank would be if you sent a student a rejection letter and then the next day said "April Fools" and sent them the acceptance package. Now that I think about it, maybe it would be the worse prank. Admissions officers: Take note.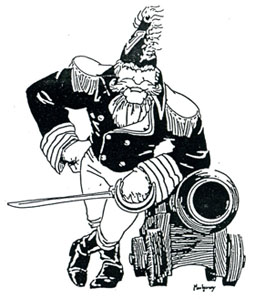 Anyways, lets get started. To begin, anyone notice the title of this post? Dores? Get it? Like, Commodore=> 'Dore. What I'm trying to say is the mascot is very important to a school. Its a symbol of the institution and its a way that people will recognize the school. Think about it, who wouldn't want to be a Commodore? Look at that picture, wouldn't you want to be that bad-ass rather than some satanic creature or christmas tree? I'd rather be a navy officer than some animal you find in the wild.
Next, colours. The school you choose determines what colours you're going to be wearing for almost the rest of your life. You'll have to embrace your alma mater and bring glory to the university you attended by wearing those colours in all aspects of life. So, wouldn't it logically make sense to choose a school with some nice colours like Black and Gold? I mean, black practically goes with anything. This informative post even talks about how GREAT the colour black is. Its just a better life choice to be able to wear great colours such as black and gold freely rather than being stuck wearing for example, some ugly shade of orange.
The perfect ratio. They say college is important in making connections. You'll meet people here who will go on to do big things, especially at Vanderbilt where everyone is pretty much a genius. What does that mean? It means at Vanderbilt, you could meet the love of your life who might just happen to become….. the CEO of a Fortune 500 company! That's like killing two birds with one stone. And, don't fear, according to admissions statistics, there is an equal male to female ratio so nobody is left out.
Going off on that last point, Vanderbilt is in… Nashville also known as Music City. Nashville is such a unique place in that there's so many different areas of the city such as Hillsboro Village, Downtown, Midtown and plenty more. Here is a good depiction of the different areas within Nashville. With all these different places, think about the number of different dates you could take your future CEO! Its just too perfect right?
The last is that Vanderbilt is in the South Eastern Conference aka best conference in the country, so you get to cheer for the SEC and feel like an elitist because we're the best at all sports. SEC allegiance also helps with your March Madness Bracket. So, make sure you don't regret passing on Vanderbilt.