Bowling in Birmingham
With the last game of the season, the Vanderbilt Commodores finished up another winning season with a 41-24 win against the Houston Cougars in the BBVA Compass Bowl.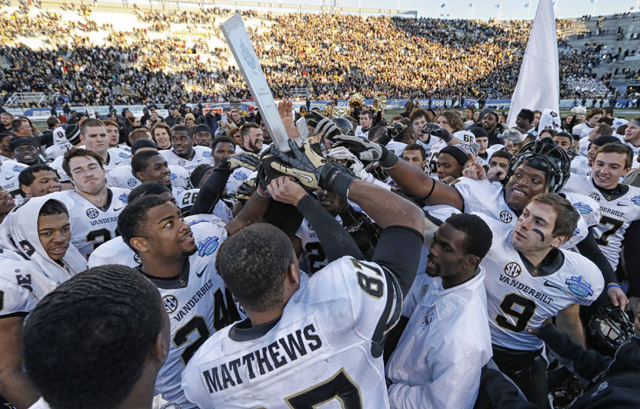 Seeing as it was the last game of the season, it was vitally important that I make it out to the game even if it meant cutting my Winter break short. So, a group of friends and I bought bowl tickets and drove down to Birmingham the morning before the game. Since Birmingham is only 3 hours away from Nashville, it was a fairly easy drive down there.
We left at 7am in our black and gold and arrived at Legio
n Field with plenty of time to spare. The sea of black and gold we saw at Legion Field was a sight to behold. Soon, we were ready in our seats and ready. We were watching the game up from the heavens (row 60) but at least we could still read the numbers on the jerseys.
The game was, as they say, a tale of two halves. Vanderbilt started strong in the first two quarters going up 24-0 and bottling up the Cougars to almost nothing. Houston came out of the half and brought the score tied to 24-24. Then in the fourth, Vanderbilt decided its time to finish the game and forced multiple turnovers and finished the game 41-24.
The Vanderbilt Commodores led by James Franklin, the great, finish the season 9-4 and will most likely end the season ranked in the Top 25 which is a great accomplishment. Next year we will have even bigger hopes as we have a favorable schedule on our hands.
Until then, we call an end to an excellent season where we defeated Florida, Georgia and Tennessee for the first time in school history. Franklin has done great things for us and deserves a city in Tennessee to be named after him.
P.S. I had a dream about Taylor Swift last night. I think its a sign.