Blair Salon Series: Singer-Songwriter Night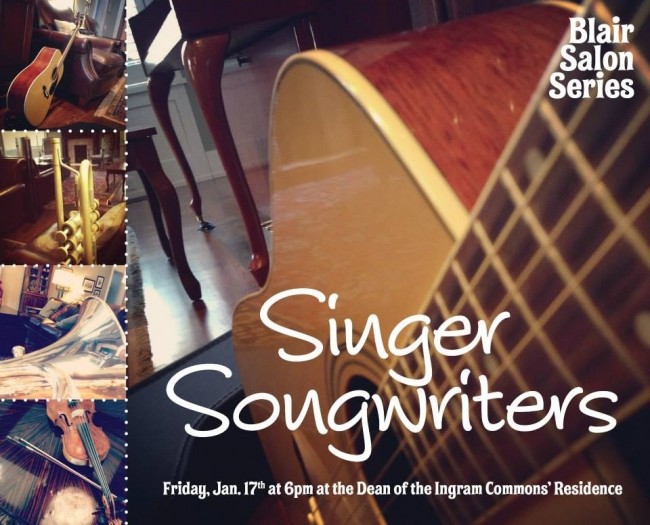 This is my second time attending the Blair Salon Series at Dean Wcislo's House. This particular Friday night was just as wonderful, and perhaps even better, than last time. When I attended in October last semester, the theme of the evening was "fairy tales," including a piece from the musical "Into the Woods."
Tonight's theme took a different direction with "singer-songwriters," featuring aspiring musicians Caity Quinlan, Christopher Kessenich, Matt Robinson, Ross Nicol, and Nate Banks. These Vanderbilt students have taken songwriting classes in Blair or have written lyrics and music on their own. Either way, their songs are raw and emotionally powerful. To listen in, visit Caity's page on SoundCloud.
As a bonus, Christopher even performed his original song about the TV show "Breaking Bad" –– "I'm dying alone, I'm dying alone." I haven't watched the last season (come on, Netflix!), but I don't think that's too much of a spoiler.
For the first hour of the evening, we listened to music and asked the musicians about their background and inspiration. And then for the second (and optional third!) hour, the twenty or so audience members and musicians conversed over dinner.
I left the Dean's House feeling content with life. It's so great to set aside time to intentionally listen to live music, meet new people in a safe space, and spend quality time with old friends.
As always, you can find out about upcoming music nights on the Blair Salon Series Facebook page.