Winter Break, AWB-Style
I'm so happy that I chose to spend the first week of winter break in Huntsville, Alabama! The purpose of the Alternative Winter Break trip was to learn about and help the community of Lincoln Village.
"Experience a week you will never forget in Huntsville! A city most commonly known as the home of NASA, Huntsville is also home to Lincoln Village, a once over-looked and struggling community. Lincoln Village Ministries seeks to impact this community through many different avenues, and during the week students will serve in various ways to help break the cycle of poverty in the area. Since 2002, volunteers have come from across the country to Lincoln Village to help rebuild the community by renovating homes, tutoring children, weeding gardens, and working at food banks [ie. Manna House]. As an all-encompassing site of service, Huntsville will serve as an eye-opening experience for all of those who are willing to learn from their surroundings."
The best part: these crazy-awesome people!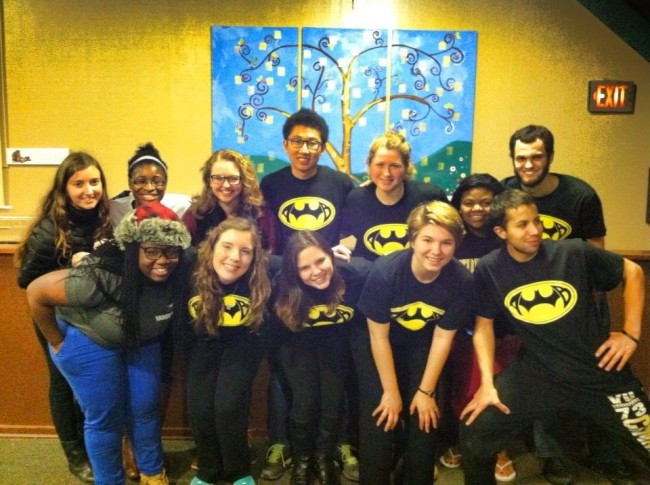 This is an outline of the week's activities:
Sunday – travel to Huntsville; buy the week's food at Wal-Mart; dinner at Red Robin with LVM's volunteer coordinator
Monday – classroom crafts and P.E. at Lincoln Academy; introduction to LVM and testimony by Mark Stearns; moving a family into a new house in Lincoln Village (7 hours of service)
Tuesday – construction site clean-up at a house in Lincoln Village; P.E. at Lincoln Academy; "Santa Shop" at MLK, Jr. Elementary School; watch basketball game between the Academy 6th and 7th grade boys and a rival school (6 hours of service)
Wednesday – folding spiritwear at Lincoln Academy; half-day celebration with Lincoln Academy students; another round of Santa Shop; organizing and distributing toys and toiletries at Manna House (9 hours of service)
Thursday – cleaning classrooms and taking down Christmas decorations at Lincoln Academy; lunch at G's Country Kitchen with other volunteers; two more elementary school classes visit the Santa Shop; Q&A with Mark (6 hours of service)
Friday – moving boxes into storage (2 hours of service)
For our "fun day" on Friday afternoon, we visited art galleries Lowe Mill, enjoyed a Mexican dinner at Rosie's, and outdoor ice-skating at Big Spring Park in downtown Huntsville.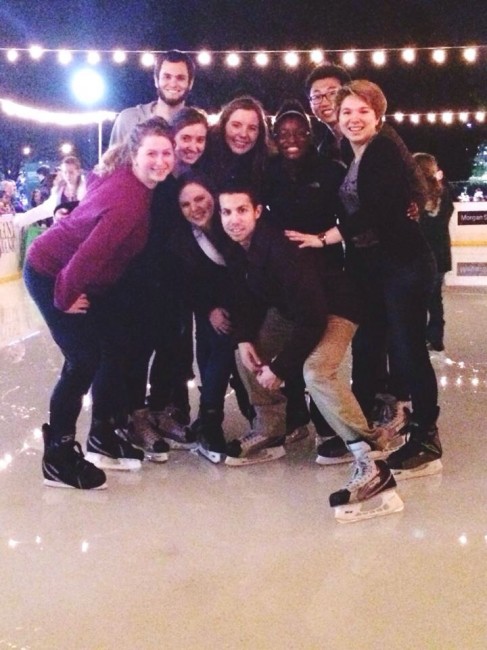 Saturday – reflect, pack up, return to Vanderbilt
That's around thirty hours of service total. I'm trying to #wintheCommonsCup for Memorial. ;) Read about my fellow Memorialite Musbah's account of his AWB experience!
A high from one of the days: when I entered P.E. with the third graders, the girls gathered around me, touching my hair, looking at the henna on my hand, hugging me. I felt so loved and appreciated, instantly.
The hardest part of AWB for me was anxiety about food. I realized that it's not really a healthy/unhealthy thing; it's more about having control. On campus I'm never anxious about food, because it's always available and the choice is always completely up to me. I never eat something just because it's lying around, because it's cheaper (holla, meal plan), because it's made by someone else for me, because it's required for social acceptability (like going to a certain restaurant), or because there's nothing else to eat. I will choose unhealthy food, but it has to be my choice; I have to feel in control.
At the beginning of the week, when we were shopping at Wal-Mart with $40 to feed twelve people one meal ($3.33/person), that's when I felt most anxious. When it my dinner group's turn to cook, we made baked potatoes with toppings, salad with pepitas, avocado, cucumber, and spicy ranch dressing, grilled chicken, and cinnamon rolls. It took a long time to prepare everything, but I was so happy to make and eat something I truly enjoyed and felt was healthy.
After each day of working, we would return to the church where we were staying, take naps or hang out, and cook dinner. After dinner, we listened to one or two Life Maps from AWBers. A Life Map is a life story, from birth to present (and even future plans), with as much or as little as you want to tell about yourself.
At the end of every Life Map, Shailoah asked, "What makes your heart happy?"
Two little girls, one red-haired and one dark-skinned, holding hands. This is what makes my heart happy.
On our last day, we gathered in a circle to reflect on the relationships we had formed that week. Each person was encouraged and praised. My team told me that I am "unabashedly myself and true to my opinions, yet not condescending towards those who don't share those values/beliefs," and I could not have received a higher compliment.
When the week I ended, my family joined me in Huntsville (driving nine hours from North Carolina), and we celebrated Christmas with my relatives.