Vanderbilt Football Bowl Announcement Party
This Sunday night, my sister, some friends and I took a study break to ANCHOR DOWN at the bowl announcement party. This event, which has become an annual tradition, celebrates the accomplishments of the football team and announces where the Commodores will play their bowl game.
Vice Chancellor Williams, Chancellor Zeppos and Coach Franklin spoke before the announcement was made. We will be playing the University of Houston in the BBVA Compass Bowl. The bowl is on January 4 in Birmingham. At first, some of my peers felt like Vanderbilt got shafted in this bowl selection. We beat some quality opponents, such as Georgia, Florida and Tennessee. We had the same conference record as Georgia but beat them in the head to head competition. But, I am actually pleased with our bowl destination. Because it is so late in the season, and so close to Nashville, I will actually be able to go! I bought my ticket already and I will just drive back to Birmingham one day before I was originally going to drive back to Nashville.
Besides the convenient date (the Saturday before we start spring classes), this is a great bowl for us because it will be easy for our fans to attend. 10 of the players are from Alabama, so this will serve as a homecoming for them. Birmingham is only 3 hours away from Nashville, so Tennesseans can make the bowl game into a day trip. Much of our student body is from the south, and Birmingham is a pretty central location for people from Atlanta, Alabama and Kentucky, for example. Even some of my friends from Texas and Chicago are going to the game!
Football season is definitely my favorite time of year. I thought that I had sung my alma mater with my team for the last time after the Kentucky game, but I am keeping my fingers crossed that I will get a surprise encore in Birmingham!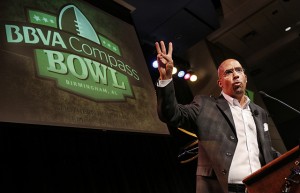 CONQUER AND PREVAIL!