The Great TAP THATsby
This semester I have had the grand opportunity of participating in a new tap dancing organization at Vanderbilt called Tap That!, and boy oh boy has it been fun. I have been tap dancing since age 3, and while I am not quite as precious as 1996 Samantha, it still pumps me up to lace up my tap shoes and impress friends and family by moving my feet REAL fast.
When I say that the organization is new, what I mean by that is that one year ago, 6 sophomores (including myself) who loved to tap dance were meeting in a dorm room trying to figure out how to start a new dance group on campus. My spunky and 4-foot-something roommate Angelica from freshman year also happened to tap dance, so I was destined to be roped into tap dancing shenanigans with her later on in my Vandy career. Angelica became the co-president with a guy named Luke and I became the secretary. Bonnie and Melina rounded out the organization as Vice President and Treasurer respectively. Tap That! was a janky mix of passionate and theatrical people, but we liked it that way. We finally got approved as an official organization, and there was much rejoicing.
We guest performed in a couple showcases around campus in the spring of 2013 (Juggleville and Dancing with the 'Dores), but I think the event that really brought attention to Tap That! was our performance in Spotlight, the showcase of all of the performance groups at the beginning of the year to get first-years interested. A few weeks later, handfuls of people who had never touched a tap shoe before showed up at our interest meeting in the Studio B dance room in Memorial Gym. I coerced a few close friends and a few of my ASBabies to give tap dancing a try in the beginner class, and they were hooked from the first "shuffle step". It helps that none of us take ourselves too seriously.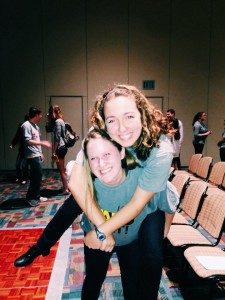 We have been practicing every Wednesday night from 9:30 to 11:00 since the beginning of the semester, and this past Wednesday night we presented our first annual fall showcase in 1/3 of the Student Life Center ballroom. As most of us, all but one actually, are female, we appropriately chose a Great Gatsby theme for the show (The Great Tap Thatsby, to be exact), as the music from the recent Gatsby movie is sassy and fast. Our finale was a mash-up up 8 Gatsby songs, ending in "A Little Party Never Killed Nobody", which was quite the crowd-pleaser. I choreographed an intermediate-level tap dance to Beyonce's "Run the World", which gave me the perfect excuse to throw in lots of sassy snaps and poses. I accidentally took all of the classes that Tap That! offered and ended up in 8 dance numbers, which actually worked out as my parents and grandparents insisted on flying up for the December 4th show. I mean, I couldn't breathe backstage due to tap dancing fatigue, but, you know, details. Who needs exercise when you have Tap That! 3 nights a week?
We didn't expect to have more that 120 people come to our show, really, but over 200 people came! Standing room only, no big deal. It might have helped that we had three stupendous guest performing groups, Jugal Vandy, VIBE, and JPAC (who doesn't like JUGGLING?) It was a little embarrassing to be sweating profusely in our GRAY Tap That! tee-shirts, but I think people were really impressed by the dances. Even the beginners were rockin' it. You can watch all of our dances on the Vandy Tap That! Facebook page, and be AMAZED.
A Little Party Never Killed Nobody, but it sure did bring some great people closer together.