The Case for Living Off-Campus
*A guest blog by the extraordinary Maralei Bunn, who is basically WRVU (Vandy Radio) royalty! I've asked her to write about living off-campus, because that is something I know nothing about. While most Vandy students live on campus for all 4 years of their undergraduate careers, some, like Maralei, choose to live off-campus!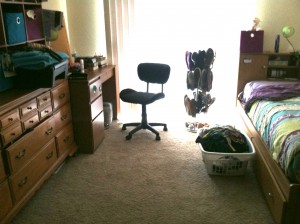 Last spring, my roommate from my freshman year (I'm a junior) asked me to join her with two other girls who were juniors in an apartment.  Currently, I am happily living at 215 Village at Vanderbilt with whom I consider to be my three best friends in the world.  At first, I was hesitant about the apartment process.  Would it be too costly?  Would I be too far away from campus?  Would I lose touch with my friends?  I considered all of these questions and more when deciding whether or not to live off-campus.
Getting the Yes:  Information about Housing Administration and Financial Aid
This past year, it was easy to get approved to live off-campus as juniors.  Because of the various building projects in progress at Vanderbilt, most notably the College Halls where Kissam used to be, the housing administration encouraged undergraduates to live off-campus.  We decided to live in the Village at Vanderbilt, an apartment complex that is next door to the Wyatt Building on Commons. I learned that if your financial aid package covers housing on campus, it will cover off-campus housing, too.  Mine doesn't cover housing on campus, but this is a good thing to know for anyone considering the apartment life.
The Cost Factor
The number one factor that determined whether or not I would live off-campus was the cost.  For the 2012-2013 school year, the total cost of housing was $9,054, that is, $4,527 per semester.  In order to convince my parents to let me live off-campus, I had to convince them that it would be more cost-effective.  For my apartment complex, the rent per month is $2,325, which is $581.25 per person per month if you split that between four people.  Internet is $5 per month, and electricity is $35 per month (at most), for a total of $630, tops.  Multiply that by 12 months, and you've got $7,560 total, which is about $1,500 less than you would pay off-campus!  This is a serious advantage if you're looking for more bang for your buck.
A Home away from Home: The Benefits of Off-Campus Living
Off-campus living has been the best.  I share a kitchen with my three other flatmates and a bathroom with a shower with my roommate.  We have a very nice living room for entertaining friends.  Several pluses to living at Village at Vanderbilt are that my neighbors are not loud and my apartment is safe, as there's an outside door which only allows people with a key to get in.  I also don't feel too far away from campus, as anything is just a 15 to 20 minute walk away. (editor's note: or just a short Vandy Van ride away!) Being off-campus helps me to relax as I have a home that's away from the chaos of school.  The only unfortunate thing is that going on campus for class is a bit of a trip, so I don't go home usually during the day.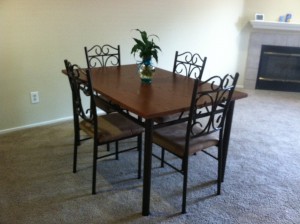 I honestly think that living off-campus is one of the best decisions that I've made at Vanderbilt.  It has given me a sense of responsibility for maintaining a household while I continue to pursue my studies. I would definitely recommend it!