Riding through the Blues
Its over. We're out. With the heartbreaking overtime loss against the Arizona Cardinals, the Tennessee Titans have been eliminated from playoff contention.
With exams all over, my friend from back home invited me to go to the Tennessee Titans game and without hesitation, I accepted his invitation. After gearing up in my baby blue, we headed off to LP Field, home of my Titans. Our playoff hopes were hanging on a thin line. Like really thin line. Like we needed multiple teams to just completely lose out. But, the motto stands: never give up, never surrender. So, I entered with high hopes. Because my friend and his family are awesome, we had lower bowl seats right by the 40 yard line; near perfect seating.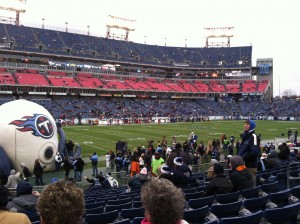 The game kicked off and the Cardinals took a quick lead which was quickly snatched away by Chris Johnson who remembered he was getting paid the big bucks. The game was very close and went back and forth all the way until the fourth quarter when Ryan Fitzpatrick, the backup quarterback, remembered why he was a backup quarter and threw an interception that was returned for a touchdown. Hearts were broken, hopes were shattered.
Then, out of nowhere, Fitzpatrick, powered by his magical beard, led three drives to a score and took the game into overtime: 34-34. To this day, I still don't know how he pulled it off.
We entered overtime. We won the toss. All signs pointed to greatness. I started to see a light, the shining beacon of Fitzpatrick that would lead us to the promised land. But no, it was false hope as Fitzpatrick, surprise surprise, threw another interception giving the Cardinals the win. Ryan Fitzpatrick without his beard would probably be Samson without his mane.
The only positive I can take out of this loss is that of all the teams, we lost to the Cardinals. Since I'm Catholic.
Anyways, the Tennessee Titans do what they do best which is giving you hope and then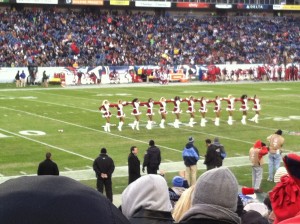 crushing them all within one game. We continue our cycle of mediocrity where we're not good enough to make the playoffs but not bad enough to get a top 5 draft pick. But, I'll keep cheering for my boys. Hopefully we'll make some changes during the off-season and make a decent playoff run. In the meantime, we have to games left against the Jags in Jacksonville and the Texans at home (Dear Friend, please take me again). Sure, if we lose to them we get a much better draft pick, but anyone who cheers for their own team to lose doesn't deserve to call themselves a fan. I hope we crush both of them. Go Titans Go.
On a side note, I'd like to point out that James Franklin announced that our Vanderbilt Quarterback, Austyn Carta-Samuels, had played the last three games of the regular season with a torn ACL. As Franklin states, "He made the ultimate commitment."
I just can't understand why I can't get this level of commitment from my flag football players.