Exploring Nashville: some highlights of my first semester adventures
Whenever I talk to my family and friends from home or the upperclassmen here, one of the first things they ask is whether I have had the chance to explore Nashville yet. Coming to Vanderbilt, that was definitely one of my goals. Since I'm going to live in this incredible city for four years, I want to make the most of it. So my answer is this: I'm working on it.
As a freshman at Vandy, I'm not allowed to have a car on campus, even if I had wanted to drive the 20+ hours to bring one down. So for this year at least, getting around Nashville involves a little bit more planning, especially if I am trying to leave the Hillsboro/West End area. Here are some highlights of my explorations thus far:
–       The Nashville Humane Association – Three of my friends and I took a zip-car to go volunteer at this animal shelter (aka pet puppies and hold cats) last Saturday. It was a spontaneous plan, but it was a 15-minute drive at most and the shelter accepts walk-in volunteers. It is a beautiful shelter, and I got to play with adorable puppies. It is quite possibly the best feel-good experience in Nashville. (see photo below)
–       Wild Horse – This is a pretty well known tourist destination downtown, but there is a reason it is so popular. It is an all-ages line dancing saloon, and it is so much fun. The first time I went, we spent three hours there, but it flew by. Definitely worth experiencing. (also see the photo below)
–       Country Music Hall of Fame – This is a pretty new attraction, but it is actually so cool. They have costumes from Taylor Swift and Carrie Underwood if you're in to more recent country music, but they also have rooms filled with old-school cars, costumes and other memorabilia that is so cool.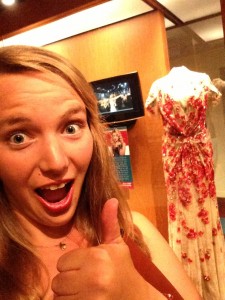 me hanging out with T.Swift's dress at the Country Music Hall of Fame.
–       The Grand Ole Opry – No need to expand upon this one. It's a major Nashville highlight, and its history is pretty cool for fans of music in general, country and beyond.
A lot of cool Nashville tourist destinations – like the Country Music Hall of Fame, the Ryman and the Hermitage — are now even more accessible for Vanderbilt students through VSG's new project, the Passport to Nashville program!
My hope for anyone who comes to visit Vanderbilt is that you fall in love with the campus (which, trust me, is not hard at all!) and the school as a whole, but if you need a little bit of extra encouragement to love Vandy with your whole heart, know that Nashville is an incredible city with so much available to do!
Also for all the fans of Nashville (the TV show) reading this, I met Sam Palladio aka Gunnar Scott in Fido a few weeks ago. So now I get even more excited when I watch Nashville, which I wasn't even sure was possible. Nashville is a magical, magical place.