Airport Adventures: Nashville to Home
The process of going home for winter break is not as simple as you might think (for me, at least). It generally involves at least three hours of staring at my room, willing my clothes to pack themselves, before putting things in a suitcase actually begins.
This time was no different.  Last night, Victoria and I had grand plans of grabbing a quick dinner with our friend Daniel before going back to Towers and doing laundry, cleaning our respective rooms, and packing, however an unfortunate incident led to us ordering food instead of just grabbing it on campus, and an extra 45 minute was added to our dinner time.  We headed back home much later than anticipated, put our laundry in the wash and then the dryer, and then plodded back upstairs to our suite, where the inevitable packing awaited us.  I wish I could say I just got it done right then, which was still about two hours behind schedule, but I gave up on the thought of getting to sleep early and just splayed out on my bed and watched Psych for a solid 90 minutes without moving.
Once it hit 11pm, I realized that of course I would need books to read on the airplane–and what better time to search the Nashville Public Library website for ebooks to borrow than right at that moment?  And so commenced an hour-long ebook-browsing-and-borrowing session, where I may or may not have checked out ten books along with putting more than a few on hold… (winter break is an excellent time to catch up on reading for pleasure–it's my go-to activity while at home.)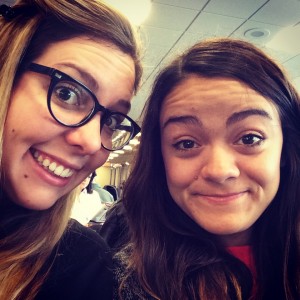 After this, I decided that I could no longer put off actually packing, so I got into gear and packed in record time, before finally getting to bed.  The next morning, Victoria and I went on a quick Starbucks run to make up for our lack of sleep, followed by a stop at the bookstore so I could buy a Christmas present for my best friend at home, and then we were off to the airport!  I went two hours early so that we could just get one of our friends to drop us off, and I was able to sit with Victoria at her gate before we parted ways and I headed off to my own.
All in all, I managed to pack light AND get some extra hang out time with VB before we headed off to our respective destinations, which made for an excellent lead-up to winter break.