A Farewell Until Fall- Study Abroad at Vanderbilt
This afternoon, I helped one of my friends pack up her car for winter break. However, instead of lugging home a suitcase and a backpack, she had everything from her dorm room packed up. It wasn't until I saw Greta's empty room that I realized she wasn't going to be here next semester because she is going abroad.
In the spring, two of my hall mates, Greta and Kristin, will be spending a semester at St. Andrew's University in Scotland. About forty percent of students at Vanderbilt study abroad. There are numerous opportunities offered through the Global Education Office, which include semesters abroad in the fall or spring, a summer abroad, or a month long program called a Maymester. There are unique opportunities for every major at Vanderbilt, and the staff works with students to find them an opportunity to go abroad and still be on track for a major when they return.
While I don't plan to go abroad for a whole semester, I am currently searching through different programs to apply to for a summer abroad this upcoming year. I was awarded a stipend with my scholarship, and I would like to use it doing service abroad in a Spanish speaking country. I have been in close contact with my adviser, and she has encouraged me to research the numerous options offered by GEO and the Office of Active Citizenship and Service (OACS). Both have great programs that coincide with my interests, and I can't wait to meet with staff members this upcoming semester!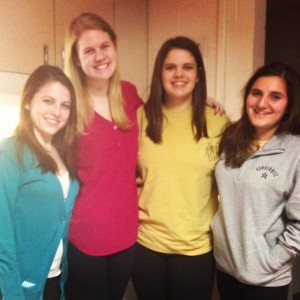 Overall, I have only heard positive things about going abroad. I plan to spend my winter break narrowing down my options and applying to programs. I'm looking forward to hearing about Greta's adventures this upcoming semester, and taking the time to plan out my own!