Winter is Coming!
This popular slogan often associated with Game of Thrones was turned into the title of an awesome VPB event that took place this past Friday night! The event was hosted by VenUe, which is the late-night alternative program committee. They converted the Student Life Center into a winter carnival.
The carnival was so much fun. There was a life-size snow globe inside which you could take pictures. There was a gingerbread cookie decoration station and they were showing Blades of Glory in one of the smaller rooms in the SLC. Although the entire event was great, there were two highlights for me. First, the floor of the Student Life Center was converted into an ice rink! I have no idea how this is even possible, but it happened. Technology and synthetic ice are cool (small pun intended). Second, the Waffle Boss food truck parked right outside of the SLC and served delicious chicken and waffles to everyone. YUM.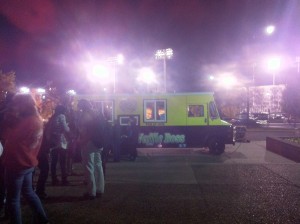 Winter probably is not my favorite season, but I am happy to celebrate its arrival if it means awesome events like this one. On a more serious note, this event represents Vanderbilt's commitment to alternative programming. Many college students often feel like their only social opportunities involve alcohol. At Vanderbilt, we have tons of programs that are school-sponsored, thus substance free, but many of them are actually fun, as opposed to simply educational. This also reflects Vanderbilt's commitment to developing well-rounded individuals. After attending events like Winter is Coming, I am yet again reassured that my tuition and fees are put to good use.
As winter is coming, school is getting more hectic. I will be traveling for an interview this week and I have an exam to take and some papers to write in between. Then, on Saturday, I will be attending my last Vanderbilt football game as a student. Wow. I will probably cry. I really hope they can get the W in my honor. (Is that conceited?) Anyway, this part of the semester is always the busiest, but it is definitely the most fun. I can't wait to share it all with you!