Why Vanderbilt?
I perfectly remember this time of year last year. It was November and I was almost ready to submit my college applications, but was I really? In fact, I didn't submit Anything until 3 hours before the deadline, which was stupid, I know, but I needed all the time I could have to revise and make sure that I put together an application that really represents me.
And behold, a year later I am at Vanderbilt blogging about it. At the time, college applications seemed like such a huge deal, but trust me they're not. Just be authentic and you'll be fine.
As for Why Vandy, I have put together a list of points that I think should make all high school seniors add Vandy to their top choices:
Check out the Vandy supplement application on common app. Yes, you are correct and no there is no essay. How convenient is not having an extra essay to write? I spent hours answering short questions for other universities and, admit it, not having a supplement essay makes your life a little less hectic. [Editorial Note: This year Vanderbilt requires The Writing Supplement as a part of the Common App. More here.]
Are you enthusiastic about football? Vanderbilt is a unique combination of sportsmanship and rigorous education. Get ready to wear black and gold, and to cheer Anchor Down!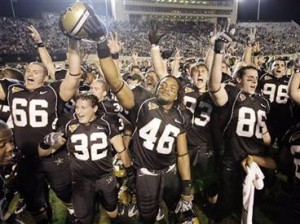 Nashville is by far one of the best places to be in. The range of activities you can do in a relatively small city is amazing. And it's not just country music (don't be afraid not to like country music, but you'll be wrong y'all.) All kinds of theater and music activities are available at Nashville and specially for Vanderbilt students. One night you'll be at the Nashville Symphony, the next you'll go to a Justin Timberlake concert. The possibilities are endless.
Are you a leader by nature? Do you like developing organizational skills? (LOL that sounds like a tacky tv commercial). Well Vanderbilt's got you covered. There are so many venues where you can become the leader you always wanted to be within the community. Vanderbilt Student Government offers so many appointed and elected positions that will shape the leader within you into a strong entity. You can work with other Vanderbilt students to shape the way our community and college life looks like. You can also be involved in service leadership and environmental initiatives on campus and in the Nashville community.You can apply to become an RA, a Service Commissioner or a service trip site leader. At Vanderbilt, they help you become the best person you ever wanted to be.