Radiolab Live
Cool things happen in Nashville, and about a month ago (I'm just a little behind on blogging…) I got to experience a particularly cool thing. Fellow blogger Nathan and I went to see one of our favorite podcasts, Radiolab, translated into live format. And it was awesome.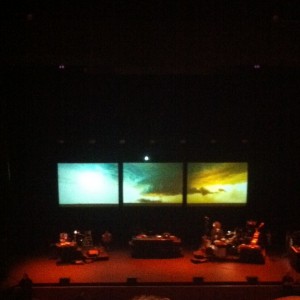 Radiolab is an incredibly unique podcast where each episode centers around a theme and essentially explores that theme through interesting science and stories. I've been working my way through the episodes from the beginning, and they do not disappoint, so when I heard that their live show was coming to Nashville, I knew I wanted to go.
The show took place at the Tennessee Performing Arts Center–I had been there before, but I'd never actually been inside. It is an incredibly cool venue located downtown, and easily recognizable by the bright letters that mark its entrance.
Once seated, I wasn't really sure what to expect–how do you translate an audio podcast into a full-scale production? But the show certainly did not disappoint and included dinosaurs, comedians, pepto-bismal, musicians, and more. Radiolab does a really amazing job of telling stories and blending them together and that translated incredibly well to the stage. It's certainly inspirational for my own blogging and also made Nathan and me really want to try creating a podcast–who knows, maybe we'll find time for that some day. All in all, I'd say it was a fabulous evening– I loved and was inspired by Radiolab Live, and I'm glad to be able to check the TPAC off my list of venues to visit in Nashville.