The Music (Wo)man
After the fun and excitement that was Commodore Quake, I was a little bummed out thinking that my music-related activities would be over for a while, but BOY was I wrong! In the last month alone I've been to three shows, gotten two backstage passes, interviewed four different artists, and have had tons of stuff printed in the paper and put up online to show for it!
Just before Quake, I had interviewed Nashville-based singer-songwriter Ben Rector, who just released his fifth album, "The Walking In Between," and was about to perform at the Ryman Auditorium for the first time. Ben was SO unbelievably cool — we chatted over the phone for about 20 minutes (I spent the whole time typing frantically/trying to keep up with the conversation/hyperventilating over the fact that I was talking to BEN RECTOR) and he seemed like such a laid-back guy. He was really excited to be playing the Ryman and coming back to Nashville on tour, and he was so humble about his accomplishments — he admitted that he still gets nervous about his audience sizes when tickets for his shows go on sale (SUCH an irrational fear, considering his show at the Ryman COMPLETELY sold out).
Ben Rector's brand of pop rock was a big leap from the rap-heavy Quake lineup, as was the EDM I covered at this year's Lights on the Lawn benefit concert. LOTL is an event put on by students to raise money for a charity of their choice, and this year was the second time it's happened at Vanderbilt. To read more about the event itself, you can check out this article I wrote in the Hustler, but my favorite part about the night was getting chat with not one, not two, but ALL THREE of the DJs who spun that night.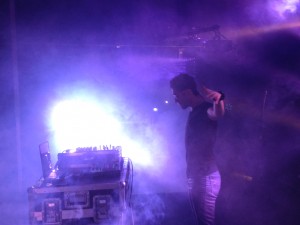 The headlining DJ, 3LAU, was a 22-year-old ex-Wash U. finance student who left school when he made it big as a DJ, and getting to sit down with him was super interesting. He reminded me a lot of the people I've met here — driven, ambitious, passionate, but still such a fun-loving, college guy at heart. Stratus and Evido, the two other DJs I got to talk to, also had so much cool stuff to say about their experiences in the electronic world and I was so glad to hear that the three of them liked playing at Vandy just as much as we loved having them
So that's basically what I've been up to for the past few weeks — music, music, school and more music — did I mention I'm writing a pop music-themed blog for my English 200 class? Yep…LOTS of music. And with Quake under our belts, Music Group is getting started putting together Rites of Spring, so it looks like I have no shortage of music-related activities for a while!