Nashvilley Lunch at Whole Foods
Last Sunday, CityVU planned another private Whole Foods cooking class sponsored by Vanderbilt Programming Board. We had three classes of twenty students each. The class was completely free and the best part (in my opinion) was getting to eat the food that we made!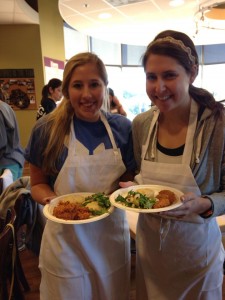 Usually, when we do these classes, we leave it to the staff at Whole Foods to choose the menu. This time, however, CityVU decided that we wanted something "Nashvilley," whatever that is. The chefs at Whole Foods came up with the most delicious menu. I have done multiple classes at Whole Foods and this one was by far my favorite. We fried hot chicken, baked biscuits, tossed an arugula and pear salad with sorghum dressing and had homemade banana pudding for dessert. Wow- it was so delicious!
I love working with CityVU because it allows us to bring the Vanderbilt community into Nashville and bring Nashville onto campus. This year, we brought an ice cream truck to Alumni Lawn on a beautiful Friday afternoon. We are also planning events to Opryland to see the lights and the ice show.
Because freshmen are not allowed to have cars, and in general, everything we need is right on campus, sometimes we get stuck in the Vandybubble. CityVU is just one of the organizations that helps pop this bubble. We also have Commodore Cruises and Commons trips which provide even more opportunities for students to enjoy Nashville.
If you happen to be in Nashville and you love Whole Foods, you have to visit this one! It is one of the few in the country that has the Salud! Cooking School. It also has a full deli, hot bar and salad bar, and a brick oven pizza shoppe! I have found it a great place to study, actually.
Nashville is a great city and we are so lucky that Vanderbilt gives us so many opportunities to take advantage of all that our city has to offer.
PS: VPB is comprised of multiple committees that provide a range of activities to the student body. Priyanka is on Music Group, which plans Rites of Spring and Commodore Quake. One event that I am certainly looking forward to is VenUe's winter carnival. VenUe provides alternative late-night programming, of which I am a HUGE fan. Rumor has it that there will be free food from a food truck, a photobooth, and a winter activity that is famously done at Rockefeller Plaza.