Blood, Sweat, and Tears (Minus the Sweat and Tears)
I'm not quite sure how it happened, but since coming to Vandy, giving blood has become one of my favorite pastimes. Savin' lives left and right; you can't stop me. This is probably the most bizarre confession I've ever made, but hey, is there an easier act of service than sitting in a comfy chair, sipping Sprite while nice nurses take fluids out of your arm? I'm going to go ahead and blame my friend Lauren for getting me hooked on this; she's the type that can get you hyped up about blood drives.
This week is homecoming week at Vanderbilt, where Greek organizations, student organizations, and freshmen dorms can compete for points at various homecoming events (volleyball, banner-painting competition, trivia, etc.) for a prize or money or something? Clearly I haven't been reading my homecoming emails very thoroughly. Anyway, one of the events is a 3-day blood drive hosted by the American Red Cross, so naturally, I was like "SIGN ME UP. Free tee-shirts and stickers and Cheez-Its, yes please."
I made sure to eat mounds of iron (chili, duh) today before my 2:00 appointment, because every now and then, I get turned away because my iron levels aren't quite up to 12.5. After I skimmed that packet they give you that warns you of all the horrifying side effects that can happen from giving blood, the volunteers at the drive gave me a red sticker signifying that I had given blood before. Then I waited in a make-shift room of cardboard dividers for a cute old woman to take my blood pressure and ask me if I've ever had malaria. The actual blood-taking was a breeze, as I know that I am prone to dizziness, so they reclined me in the chair and gave me a Sprite with a bendy straw. For those 10 minutes, I was a princess. Post-blood drive shenanigans for me entailed picking up my free tee-shirt and dealing with a bit of wooziness, but a nice afternoon nap fixed me right up.
Let's take a walk down memory lane and explore the Samantha/Lauren blood donating adventures of years past at Vandy.
Freshman year, outside of the Commons, pointing at band aids and radiating pride: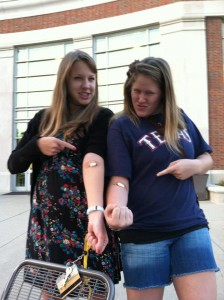 Sophomore year, we decided not to put our faces in the pic. Smart move: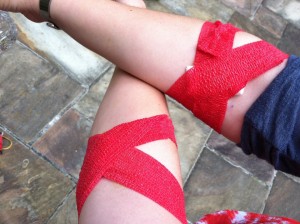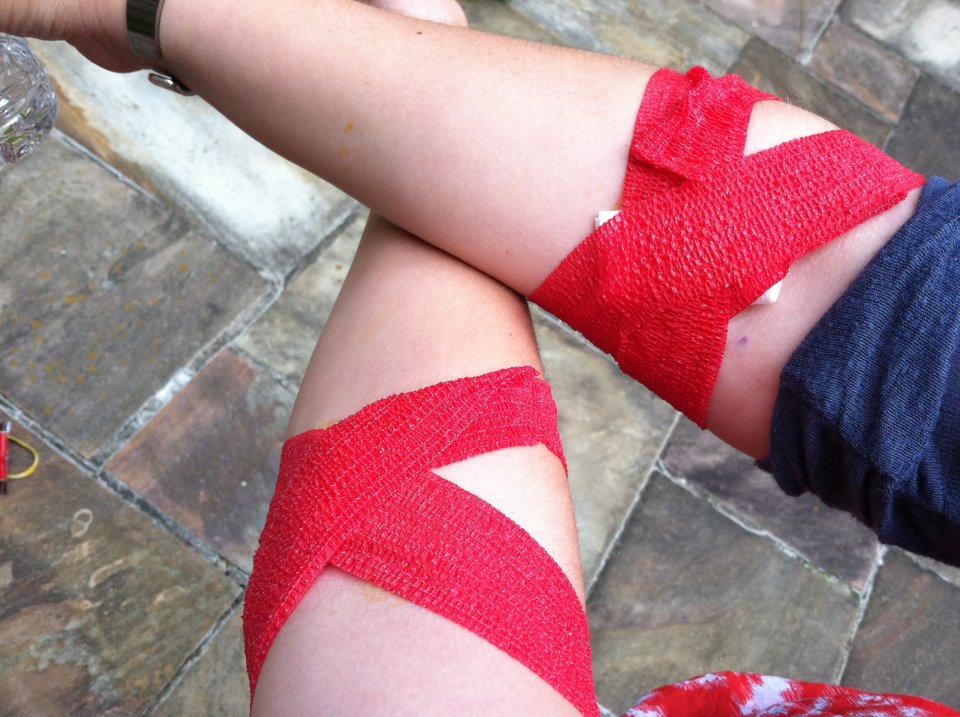 In a recent heated game of Catch Phrase, one of my friends used the following clue to describe the phrase "Giving blood": "Oh, something Sam loves to do." I am not ashamed, but proud. Blood-donators unite. #LikeAChampion