Being Catholic on a Secular Campus
Many of you may not know, since I haven't really talked about it all too much, but I'm a Catholic. I'm what they call a "Cradle Catholic." Always been one, always will. It's part of who I am.
When you go off to college, you have the decision to do whatever you want in your free time. You call the shots in your life. Your parents aren't going to be around to tell you to go to church on Sundays. So it's your choice. Unlike some other schools, Vanderbilt is a secular university: No religious affiliation and therefore you can go about all your years during college without worrying about any pressure to do anything religious. Its completely up to you.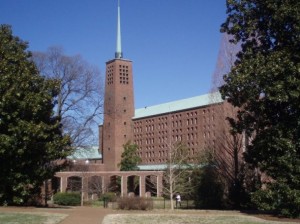 My freshmen year, I made the decision to stay involved in my faith. It was something that was important to me and I know I wanted to be part of the Catholic community at Vanderbilt. And so, I went on Awakening, a weekend long retreat held by Vanderbilt Catholic, and from then I was part of this community. So, I joined University Catholic and I've been a part of this student organization since. It helped me meet a lot of new people who I would not have met otherwise and I also found some great upperclassmen friends (a valuable commodity when you're a freshmen).
I'm still involved with University Catholic and currently hold a board position. There is always plenty of things going on every week and so you can choose which events you want to attend based on your interests. All the events are well planned out and you always meet new people as University Catholic is a large community.
Mass is held at the Benton Chapel every Sunday at 9pm, which I must say, is much better than waking up in the morning for 10am mass. The chaplain is Father Baker who is a great priest and is always willing to talk to you. Everyone within the community are great people, we all share the same core values embedded within Catholicism and so we all have a sense of connection between each other that helps to bring the community together as if it was a family.
But, obviously, the best part of University Catholic was that it helped me to find my passion and the reason I was called to Vanderbilt: Intramurals. First it began with Flag Football and Soccer. Since then, (obviously with my help) we have expanded into Volleyball, Softball and Basketball. I expect FSA (Future Saints of America) to become a household name within two years.