A window into the Future
Recently, I have started shadowing a physician over at the Vanderbilt Medical Center in an effort to hopefully learn more about the long roller coaster of a ride that is the road to being a doctor.
On Vanderbilt's campus, Alpha Epsilon Delta, the National Health pre-Professional Honor Society, has a program that allows any Vanderbilt undergraduate student to sign up to shadow one of the listed physicians on the list. As most people want to shadow a surgeon, they are a hot commodity. One that I missed out on, but its fine. When it was my turn to sign up, I saw the long list of names sorted by their specialty. I had no idea which one to choose. There were so many and there were people behind me in line pressuring me to pick quickly. So, I scanned the list and then I recognized one name. I called dibs and boom, I was done.
The reason I recognized his name was because he was an Orthopedist who specialized in the hand and I had seen him last Spring for a problem that I was having with my hand. Fun fact: I have some rare condition apparently called Benign Focal Amyotrophy which has to do with loss of motor neurons or something like that. Read about it here! So you know, you could say I'm one of a kind.
Anyways, so I recognized the name of this orthopedist and so signed up and contacted him on when I could shadow. He told me I could come in during his clinical hours on Mondays. So I did. I went this past Monday and will be returning every Monday for the semester. The one thing I learned is how busy he is during the entire day. I followed him around for three hours and as soon as he was done with one patient, he would walk into the next room to see another patient. This went on for three hours straight and I more or less just tagged around into each of the patient rooms and stood in the back being a fly on the wall.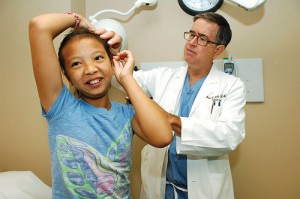 Since the doctor did not really have the time to talk, I did get to talk to a 4th year Medical student at Florida State University who was on a residency visit who gave some good insight into the whole "becoming a doctor" thing. The most important thing that he mentioned was that these shadowing moments for me, is less about learning the diagnosis process and more of learning about patient interaction. That was quite helpful and I plan on being more aware of that aspect during the upcoming weeks.
All in all, as this is my first time shadowing a physician, I quite enjoyed the experience and look forward to returning for the rest of the semester.