Yo Ho, Yo Ho, A Pirate's Life for Me
Yesterday, the whole world celebrated a very select group of people: pirates.  International Pirate Day, which was observed on September 19, allowed our inner pirates to be free for a little while.  Shiver me timbers!  And of course, we pirates sought hidden treasure, so we looted Krispy Kreme!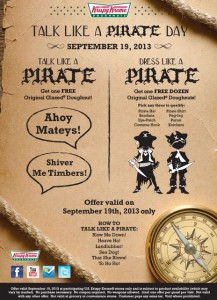 We set off on our grand adventures after the evening Chemistry Exam. My friends, who had just gotten food from Moe's because it just so happened to be Free Queso Day as well, outfitted themselves with authentic-looking pirate hats made out of construction paper, a cleverly crafted hook made out of a hanger and foil, and real parrots which sat on their shoulders.  Just kidding, the parrots were made out of paper.  One even used an sleeping-mask for an eye-patch. Though my accessories were hastily put together, an aluminum foil hook, an eye-patch, and a peg-leg (a.k.a. a chunk of firewood), we only needed three pirate items in order to earn a free dozen donuts.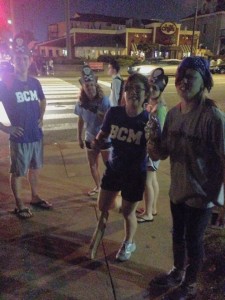 Though we didn't have time to construct a ship in which to parade down Elliston Avenue, we entertained the idea and shouted things like, "Ye scallywag!"  and "Arrrr!" as we strutted and pirate-swagged across the West End intersection. When we spied our shining treasure- Krispy Kreme was literally beacon of light on the dark street- we bellowed, "Ahoy mateys!"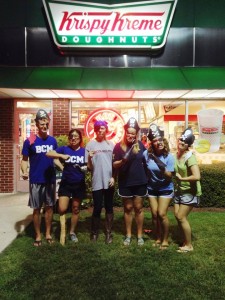 As we entered donut heaven, we cried, "We're here for our booty!"   I think that the Krispy Kreme employees were thoroughly amused serving people who would be ridiculous for the sake of free food. We amassed a grand total of six dozen donuts.  Within five minutes, we probably cleared a whole box in celebration.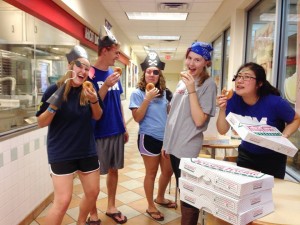 Sauntering back to the BCM with our spoils, we divvied up our booty.  We asked our mates, "Arrr ye wantin' any donuts?" and they would reply, "Aye aye!"  A sweet end to a successful treasure hunt.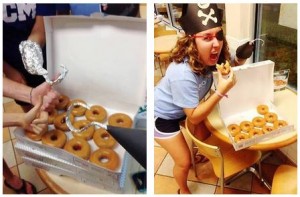 Avast!
A special thanks to the amazing Sam Orland for providing the spectacular photos!