Visions of Sushi!
From the the first time I met my faculty VUceptor PBarz (Professor Gregory Barz :D) and student VUceptor Tsian (who's real name is Raenne!), I knew that what is called Vanderbilt Visions was going to be awesome, and it has been. The people I met during visions are my closest friends, and during the weekly hour that we get together as a group, we learned so much about each other. Each one of us has a different life story, different experiences and a different element they bring to the group, which was eventually called HotSpot NAU (Not About Us).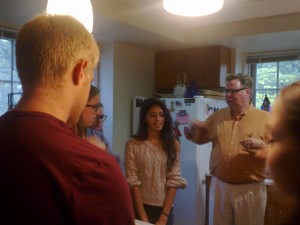 Surprisingly, Austin (a fellow HotSpotter) had the quite unusual talent of making sushi! And ever since he shared that on our first visions session, we've been daydreaming about making sushi together!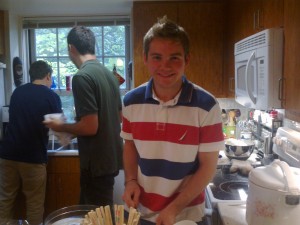 Last week, was an Open Visions session, where we could do whatever we wanted- and what better way to spend your afternoon than making sushi?!
PBarz invited us all to his apartment in North House and there it was: Sushi Heaven!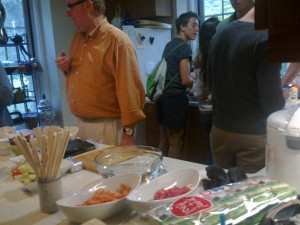 Of course, I was tempted to eat a scoop of Wasabi just to prove that it's not that hot, but after "dipping my feet in the water" I realized that this was a challenge I don't want to take up.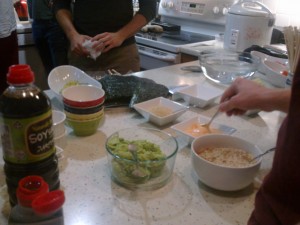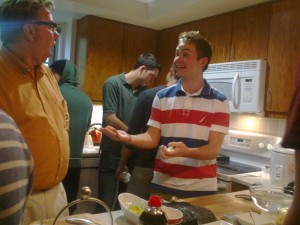 We all got around the kitchen counter while Master Austin explained how to wrap up those bad boys!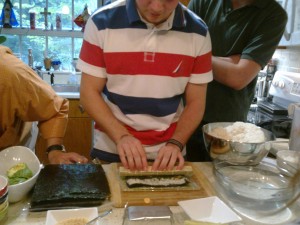 Master Austin was very particular about how his sushi needs to be rolled, and after a lot (I mean A LOT) of patience, we had our sushi ready!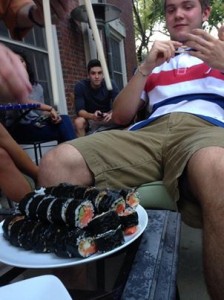 I had asked before the session to be permitted not to make the sushi, and just to eat it, but it was just too tempting to play with food (after having washed our hands multiple times in a sanitary fashion…ehm).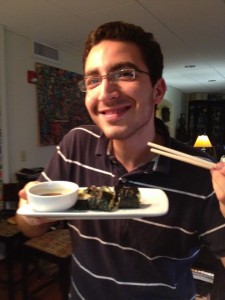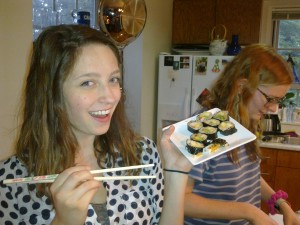 We all gathered on the front porch, and made sure that everyone that walked by knew that we were making sushi, in an attempt to broadcast that HotSpot NAU was the best visions group! People already knew that but it is better to reiterate it.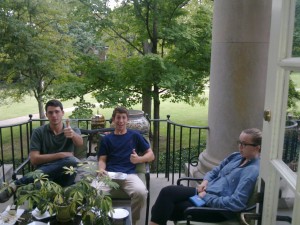 I had an amazing time with HotSpot NAU, not just making sushi, but also sharing  goals and making life-long memories!