Sugar, Sugar
Probably my favorite thing in the world is dessert. So the end of last week was splendid. Thursday night, I went to Sweet Cece's for some late night froyo. Friday after a failed attempt last week, I went to get Gigi's cupcakes.
Thursday night, after a long week of work and little sleep, my friend Kelsey asked if I wanted to get froyo, so we drove on over with my roommate Jodi for a late night dessert. Sweet Cece's is a froyo place in the Hillsboro neighborhood and it's on the card for Taste of Nashville. I miss not living near Hillsboro, because they have so many delicious restaurants and cute shops. I enjoyed just spending time with my friends without imminent pressure of problem sets. It was such a good study break, and I went back to finish up some work that night satisfied and refreshed.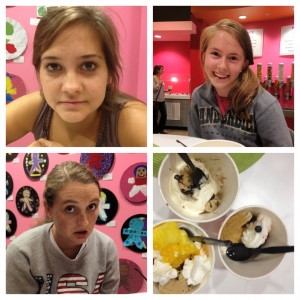 Friday, well let's just say I've been craving Gigi's cupcakes for a while, so I was ecstatic to finally get one. Gigi's is a campus fave, and I'm also very on board with how popular the cupcake business is becoming. They may replace froyo for my favorite dessert quite soon. A couple weeks ago my friends Julia, Maddie, and I were craving cupcakes, so we planned to go before our date party for Alpha Chi. Unfortunately, Google LIED and said it closed at 9, when it really closed at 8. Needless to say, we showed up very sad to find them closed. This time we made sure to arrive well before 8, and were even more excited and made our selections carefully. I got a double stuff Oreo cupcake, which had two layers of frosting and the inner one was made of melted marshmallows. I was in culinary heaven.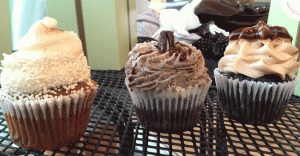 I definitely have enjoyed the desserts around Nashville, and these two trips were so much fun!