Meet our newest additions!
Two weeks ago I got the most intense, high stakes homework assignment that I've ever received, and it wasn't even for a class. What could possibly be so important, you may ask? Nothing but INSIDE 'DORES APPLICATION READING, of course!!!
After months of anticipation (literally months, plural), hours at the Student Org Fair, and an only slightly embarrassing plug on the Class of 2017 Facebook group, we received an astonishing FORTY ONE new blogger applications to join Inside 'Dores!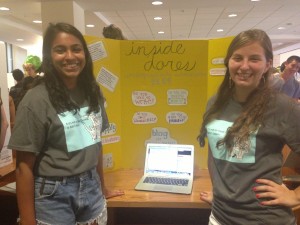 As the blog's recruitment chair, I'd like to think this was all due to my stellar recruiting abilities (who could say no to this face???), but there were a ton of applicants who I didn't even meet during the Org Fair. I guess it's just a testament to how many people actually read Inside 'Dores (that, plus the number of people who came up to Eileen and I at our booth telling us stories about OUR summers)!
In all honesty, the amount of talented writers in the pool was overwhelming. I laughed, I cried, I fell in love… and reading the mammoth 56-page word document of applications went by so much faster than I expected.
After all the tri-fold board crafting and Facebook posting and Org Fair mingling and link emailing and application reading, we were left with seven bloggers who stood out from the rest. Without further ado, I'd like to introduce you guys to the seven newest Inside 'Dores:
Hunter Imlay — Hunter is a sophomore from Hurricane, UT majoring majoring in Molecular and Cellular Biology and minoring in Chinese.
Musbah Shaheen — Musbah is freshman from Syria who's double majoring in Biology and Piano Performance.
Logan Keller — Logan is a freshman from Dallas, TX majoring in Political Science with a double minor in Spanish and Environmental Sustainability Studies.
Alisha Newton — Alisha is a freshman from Charlotte, NC in Peabody majoring in Cognitive Studies.
Anthony Maina — Anthony is a freshman from Nairobi, Kenya in Engineering majoring in Computer Science.
Heather Jackson — Heather is a freshman in the College of Arts & Science from Columbia, KY.
Anne Walker — Anne is a freshman in the College of Arts & Science from Marion, MA.
I can't wait for our readers to get to know the new bloggers, and if any of you guys are reading this: welcome to the club, we're a really close knit group of people!