Let the Games Begin
Alright, so the games have already begun.  The season is in full swing for the Vanderbilt Women's Club Soccer team, but this upcoming weekend (which also happens to be Family Weekend here on campus) we have our first two home games of the year!
The season started off fast–with our first away game coming just a few days after we finished up tryouts and got our team for the year.  We have so many talented new players this year–I think it will be one of our best seasons yet!  Our first game was against Western Kentucky University, and continuing our undefeated streak from last year, we won 5-0!  It was after that game that I first realized how competitive we are as a team this year, since we played so well after only one practice together.  Our second away game was against Northern Kentucky University.  It was a fairly long drive from Nashville (four hours, to be exact), but we had fun in the car on the way there and back, jamming to the radio and getting to know each other.  We also won that game, 3-0.  Sadly our third away game against UT Chattanooga got cancelled, but we're hoping to reschedule!  The season is really off to a solid start, and I'm looking forward to spending my senior year with these girls and seeing what this awesome team can accomplish throughout the season!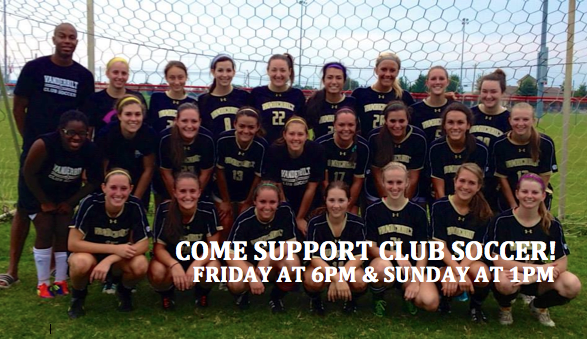 And now to my plea:
If you're in the Nashville area and you like soccer, Vanderbilt, Inside 'Dores, or even just spending time outdoors in this lovely weather we've been having–COME TO OUR GAMES THIS WEEKEND! Friday at 6pm and Sunday at 1pm, we'll be on the turf field behind the rec, playing our little hearts out. Cheer us on as we play MTSU and UT Knoxville! We love fans!