Exploring House Community through Books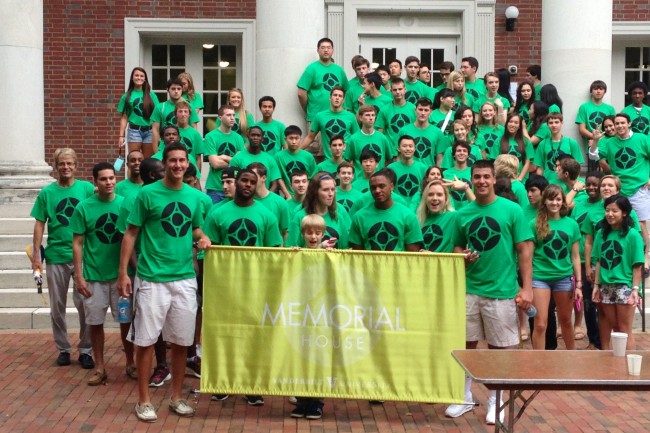 In my first week at Vanderbilt, as part of the first-year student orientation, I participated in my house's "Community Creed" activities, each representing a specific value. We shared funny stories about our families, created felt quilt squares representing service interests, chatted over cupcakes in the faculty head's apartment, and received emerald-green t-shirts with the Memorial icon. But my favorite part of the afternoon was a discussion on books, representing scholarship.
I love literature, so to me, this allowed me to really appreciate the other people in my residence hall. But this activity wasn't limited to English majors; it required only an understanding of ourselves. We each picked a book that represents who we are and how we see ourselves, and took turns explaining why.
I picked my favorite book, Cloud Atlas by David Mitchell. You may have heard of the movie, but you have to start with the book. It's special to me because it's a little unusual, it's brilliantly written fiction, and it still manages to make a profound statement about humanity. The scope of the book is huge, and the execution powerful.
Cloud Atlas reminds me of one of my favorite TV series, "Lost," in the way various timelines overlap and connect. But it goes beyond that, switching between historical eras, evolutions of the English language, and genres in a sort of cyclical manner. Likewise, our thoughts and feelings can be complicated, and hard to unravel, but they connect to something fundamental inside of us.
Other students picked books ranging from current nonfiction and to haunting classics. Of Shelley's Frankenstein, our House President Henry said: "I like the metaphor of the relationship between creator and creation and the Faustian obsession the monster has in his pursuit of love." (There's just no way to paraphrase that!)
Yuyao likes Outliers by Malcolm Gladwell because it uses real life examples of hard work beating in-born intelligence, and emphasizes the idea of being in an environment that nurtures creativity.
Sujiin shared a personal story from The Giver by Lois Lowry. When she moved from California to Korea at the beginning of high school, she struggled with the language and the culture. Eventually, she got involved in an English literacy program, and another struggling student latched onto Lowry's books, starting with The Giver. It's a reminder to Sujin of the first time she felt that she "was making a difference"––a memory of life's purpose (and of "not feeling like a useless lump").
At some point, the RAs will buy these books and add them to our house library. For now, we have just a smattering. But when I checked, I saw that there is already a copy of Cloud Atlas, a book I thought no one had even heard of before. It's a sign that I'm in the right place.