Three in One
This past Sunday, I accomplished one of my summer goals: the triathlon. With a time of 3 hours 11 minutes, I completed the Music City Triathlon and crossed that one off the bucket list.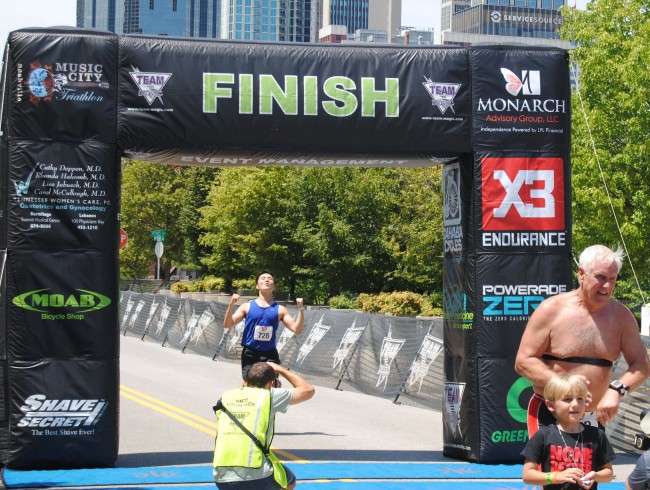 It was a long and difficult journey, but one that was worth it. Last year, I completed the Music City Sprint Triathlon (which is half the distance of the Olympic Triathlon) and I had set the goal last year to compete and finish the full triathlon this summer. The full length of the Olympic Triathlon is: 1500m Swim, 40km Bike (26miles) and a 10km Run (6 miles).
As someone who does neither bikes nor run, it was difficult getting prepared for those two parts of the event. Since mid April, I found a running buddy and started my running adventure. It began with 2 miles around the Vanderbilt campus and then after a month 3 miles around the campus and the Medical Center. Once the summer started, I would run at the gym one day and bike the other day and repeat six times a week resting on Sundays. That continued for several weeks and soon it became 4, 5, then 6 miles on the treadmill and 12, 16, 20, 24 miles on the bike. I was getting better, getting more fit and soon I was in the shape of my life.
Swimming was not too much of a worry for me since I was a swimmer back in high school. I had not in the pool for a while so it took a while to get back into the swing of things. I started easy by swimming fifteen 100m sets, and then moving up to seven 200m sets, five 300m sets etc… until I was ready to swim one set of 1500m. (That's a lot of laps by the way, especially in a 25m pool)
After several weeks of this kind of training and building up into better shape, about a month before the race I started to stack two of the different kinds of events. Such as, I would run five miles then swim 1500m or I would bike 20miles then swim. My body did not appreciate the amount of cardio I was doing everyday.
Eventually, it came down to the day of the race. After a well deserved carbo loading session the night before, I woke up early in the morning and arrived at Titans Stadium at 6am.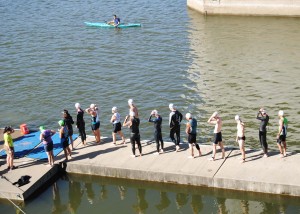 I got all my gear set up and headed out to the dock by the Cumberland River representing the great number of 728. They sent people off one at a time and soon it was my turn. The moment I had been waiting for. I jump in and the first thing I realize is how cold the water is. No wonder everyone else was wearing wetsuits… and there I was wearing a speedo.
Poor choice. Next thing I notice, the water is so cloudy that I can't see anything underwater and there I am for the entire swim portion thinking about how awkward it would be if I swam into someone. Would I apologize? Would I pretend nothing happened? Difficult decisions. 26 minutes later, I get out of the water. Oh good, I get to go bike for 2 hours.
Now, I hadn't really practiced all too much for the bike portion. I'm not very experienced biking long distance so I figured I would just wing it. I had never biked 26 miles in my life before I hopped onto that bike on that Sunday morning. Everyone else was ferociously cycling down Ellington Parkway whereas I was merely going on a nice, long, peaceful cruise. The only good part was that I brought jelly beans as a snack and I was getting a great overall tan. I managed to overtake one person during my ride and I am content with that achievement. I finished that portion with a time of 1:47 which happened to be the third slowest bike time of all the males. So, in a way, I came in third.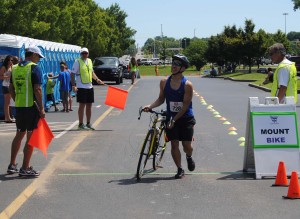 Next came the grueling 6 mile run while my quads were tired and my groin on fire. I jogged the first three miles so slowly that I probably would have been faster if I had power walked. 52 minutes in, I hobbled over the finish line with my head held high. I finished the race and ran over to the food tent to indulged in the best type of pizza: free pizza.
It was a difficult achievement but definitely a rewarding one. The feeling of crossing that finish line and thinking about all the training that I had done for the past three months was incredible. I had set a goal and I had completed that goal. On top of all that, I was in the best shape of my life. In my past 20 years, I have never been more fit than I am today. Its an amazing feeling.
As you begin your first year of college, staying fit and healthy is incredibly important. The "Freshmen 15", although slightly exaggerated, is a real threat if you don't watch what you're eating and you don't maintain a constant level of exercise.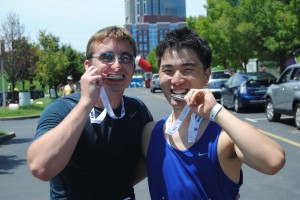 Committing to something like a triathlon, for me, was a great motivation to exercise consistently because I had a tangible goal I could reach. Vanderbilt offers plenty of sports clubs that you can join to find a fun way to exercise with a group of people. If not, the gym facilities at Vanderbilt are excellent and a great way to maintain a healthy lifestyle.
Next up for me? The Music City Half Marathon.