The Other Half of Summer
I've talked a lot about my internship at redpepper, and before I start talking about my senior year here at Vandy (eeek!) I want to cover how I spent the three days of my work week that weren't spent at redpepper–working in the Vanderbilt Office of Undergraduate Admissions!
My work at the VU OUA was primarily split into three parts–two main projects, giving tours, and helping with other miscellaneous summer tasks. The two main projects made my summer work also an internship of sorts. For one of them, I had the opportunity to research using social media for higher education–particularly other admissions departments, and make an awesome booklet with my findings and suggestions for the VU OUA. My other research project involved looking at trends in website design, and how Admissions could possibly make their already awesome website even cooler in the future.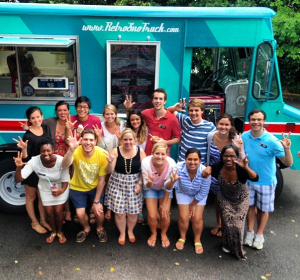 The second part was giving tours–whether it was for PreVU or one of the daily tours–and I absolutely loved giving them. I love talking to prospective students about life at Vandy (it's like this blog, in the flesh) and showing them our amazing campus! In fact, I get to keep doing it during the school year–so if you come for a tour this next year, keep an eye out for myself and other tour guide bloggers! This also meant I sat in on a whole lot of info sessions about Vandy and its four different schools–my wealth of Vanderbilt knowledge has vastly increased!
Finally, I also got to help with general tasks around the admissions office–everything from stuffing envelopes to putting together the bags that are given out on tours! It was really fun to get an inside look at how undergraduate admissions works, and I also learned a lot about marketing for one specific organization–a cool addition to the perspective I got at redpepper.