The 5 Reasons You Don't Really Need a Car at Vandy
The fall semester of 2013 means lots of "firsts" for me: my first job on campus, my first time living in a 4-person suite, and my first time bringing the good ol' Orland mini-van to campus. While having access to non-bus and non-cab transportation has been a luxury, having a car at Vandy is definitely something I could comfortably live without. The "swagger wagon", if you will, is a nice-to-have, but not a must-have.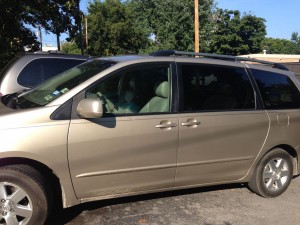 Freshmen at Vandy aren't allowed to bring their cars to school, but sophomores, juniors, and seniors are permitted to bring theirs. But hey freshmen, you won't even miss your car! The following are the top 5 reasons why you don't really need to have a car at Vanderbilt:
1. People are nice, bum rides off of them: Many upperclassmen bring cars with them to school and are more than willing to pick up freshmen on Commons for the occasional Costco trip, Glamour Gals service event, or ride to church. Most of the Christian groups on campus provide lists of their members and the churches they attend, so you can ask for rides to church. By the time you reach sophomore year, it's likely that one of your close friends will have a car. Then you can beg them to take you to your hipster drum circle, or whatever you kids are into these days.
2. Freshman? Trust me, you don't need to buy any extra food at the grocery store: If you are worried about being provided with enough food to satisfy your giant 18-year old appetite, don't be. Twenty-one meals per week plus $175 in Meal Money and 10 flex meals is a meal plan for KINGS. If, however, you still need to get to Target, there are a few weekends in early August and September where VSG provides buses to Target for freshmen on Saturdays. When all else fails, CVS is the Vandy kid's go-to place, because you can walk there in 10ish minutes and sometimes a single package of band-aids doesn't warrant a trip to Target.
3. Vandy/Nashville is walk-able: The walk from Blair to Commons can be a rough one, but generally speaking, Vanderbilt is a pretty small campus. No one really drives to class unless they live way off campus, which is rare. Vandy Vans can take you through campus and along the edges of campus from 5 p.m. to 5 a.m. every day, which is helpful on particularly blustery days. Downtown Nashville, where all of the honky tonk Nashvegas action happens, is at the far end of the street Vanderbilt is located on (West End/Broadway). All of the restaurants that accept the Vandy card as payment are a hop, skip, and a jump away from campus, too. Bring some nice walking shoes to school, and you'll be golden.
4. Calling the occasional cab is a breeze: Vanderbilt has recently partnered with Allied, Diamond, and Nashville cabs so that students can charge their cab fares to Commodore Cash on their Commodore Cards. A new thing this year is that you can split a cab fare 2 ways on your card. How fancy. I always saved the phone number for Allied Cab in my phone, and a cab would show up within 15 minutes of when I called. This is the way I got to the airport and got downtown for the occasional line dance outing. On most weekends, cabs are lined up outside the freshmen quads, so you won't even have to call the cab company.
5. Zipcar and OACS vehicle rentals can fill in the gaps: For students that really do think they need a car at school but cannot bring a car from home, Zipcar is a viable option. You pay by the year for access to a few compact cars that are parked around campus whenever you want (in hour-long increments or by the day). For instance, if you teach regularly at a dance studio that is 20 minutes away but don't have a car, getting a subscription to Zipcar might make sense. For those like me who love community service, the Office of Active Citizenship and Service (OACS) offers an option for students to take a short online module and take a quiz in order to rent "service cars" on a regular basis. They do this so that students have access to locations around Nashville to do service. I have gotten "OACS certified" in the past in order to drive people to tutoring, and the system worked flawlessly.
Despite all this, I still do have my glorious mini-van fit for a mom at school, and I love it. There are days when the "swagger wagon" acts more like a "jank tank", when the radio needs to be smacked a few times to work and the duct tape comes out. That's the reason why my parents let me take the mini-van to school. It seats 7 and has a trunk big enough to fit zillions of bags of groceries, though, so it has instantly become the party van. I even have a prized parking spot behind the BCM, which is a fabulously central location. Sonic runs and Chick-fil-A runs, ahoy!