My Desk
One of my favorite magazines in the world is Vanity Fair, and one of my favorite things that they do is their "My Desk" feature. In "My Desk," VF photographs the desks of visionaries like Aaron Sorkin and Oprah Winfrey and has them comment on the various, unique things that they choose to keep there.
In the spirit of coming back to school and getting acquainted with my brand new desk, I decided to make my own "My Desk," and share the all the things I have around with me when I'm doing my groundbreaking work (ie: this post):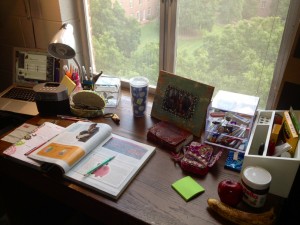 From left to right:
MacBook Air: After a five year run, my old school MacBook Pro (and I'm talking REAL old school) and I finally called it quits, leaving me faced with a tough decision: what now? I fully intended to get the new version of the Pro, but after picking up the MacBook Air for the first time, there was no turning back. We've spent a magical two weeks together, and I'm not one to drop a bomb like this, but I really think it's love.
iHome: This little guy is a lot smaller than most of my friends', but I wasn't looking for speakers here. At night I move it from its nice spot on my desk (which, if I might add, is perfect for a quick charge during homework time), to right on top of the cart beside my bed so I can see the time/my texts/anything else my little heart desires all through the night! I only realize how horribly Gen Y that sounded as I typed it…
Commodore Card: After my second trip to the Commodore Card office this school year (yes, this currently two-week-long school year), the open desk space right in front of my iHome became my card's new home for when I'm not on the move. So far, so good, right?
Planner: My planner is my lifeline. The minute I get a syllabus, I'm filling in dates of exams, papers, projects, even the final! There's nothing better/worse than knowing that no assignment can sneak up on me/ that I have three papers due the week of September 23rd.
Fundamentals of Management textbook: This is just one of the many mammoth texts that live on the shelves above my bed. Compared to some (hi, Financial Accounting) this is nothing, but that doesn't mean it's safe from my relentless annotating.
Candy Jar: This jar was decorated with Fleur-de-Lis and Kappa keys for me by my awesome big, Morgan! It once was filled to the brim with Skittles, gummy worms, and those amazing chewy Lifesavers, but then the weekend rolled around…
Picture frame: I really wish this frame had some kind of significance to me because it gets tons of compliments and people love it, but the only thing that matters to me here are the people in the picture. As the one and only picture on my desk this year, I knew it really had to be a good one, so I dedicated this spot to my best friends who I don't get to see during the year. With Lake Michigan and the Chicago skyline in the background, it's the perfect reminder of the best of both worlds I have here and back home.
Leather elephant journal: Finally something cool! I got a couple of these journals for practically nothing on a family vacation to India a few years back and they're the perfect thing to whip out when you want the coffee house hipsters to check your street cred.
Post-its: ART FRY IS A VISIONARY. Post-its are perfect for quick reminders and decorations (see Crayola products in the white box). How humans ever lived without them, I cannot fathom.
Tiny bedazzled robot flash drive: This guy was a high school graduation present from my cousin Katya. He chills out on the top knob of my desk organizer and has been perplexing visitors/my roommates since day one of college.
NUTELLA: This is a dorm room/diet staple of mine. If you take one thing away from this whole post, add Nutella to your Post-it shopping list for your next CVS run.
That just about finishes the run-down of interesting things on my desk, but one of my favorite things in my whole room is actually (well, partially) pictured here too — my view! Living high up in Lupton gives me an amazing view of the Medical Center, and having a desk right in front of the window lets me enjoy it all the time. Even into the wee hours in the morning, when I'm not so happy to be working at my desk, it's hard to get too upset when I look out at this: