The Waiting Game
The waiting game is my least favorite game. But, sometimes, it is a game I am forced to play. This time around, I am waiting for secondary applications from medical schools. After I receive and submit those, my work will be subject to another round of screening before I hopefully receive invitations to interview. Here, I share with you how I have been passing the time.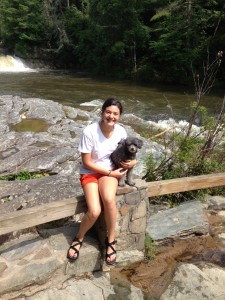 Currently, I am sitting on my couch in Boone, North Carolina. I am here with my mom and my dog, Buster. My trip to the Appalachian Mountains has been a nice change of pace from life back in Miami Beach. People here are friendlier and things definitely move slower. At home, we have internet, but no cell service, nor do we have any neighbors. I have really enjoyed this break from technology and from the pressures of city life. But, I actually think that Buster has enjoyed this vacation most of all. In Boone, not only does Buster get to hike, but he also gets to shop! This little town is definitely pet-friendly.
In terms of the waiting game, I have some good news! Yesterday, I received the all-important email from AMCAS notifying me that my application has been verified! This means that all of my self-reported information was accurate (duh) and that the medical schools can now trust in the legitimacy of my application. Even though I know that I submitted an honest application, I still let out a sigh of relief when I received this email. Yesterday, I received two secondary applications and three other emails from schools notifying me that my file is officially open.
This is all very exciting, and though I am not necessarily looking forward to writing essays until my brain explodes and my hands cramp, I understand that this is all part of the process. On the bright side, on my vacation, I have been able to brainstorm ideas for some of the more general essays that I expect to receive. I have made a short list of experiences that I wish to share in some form through the secondary applications and I have also started to examine my personality strengths and weaknesses because I have been told by current medical school students that those sort of questions are to be expected.
Keep your fingers crossed for me! I will definitely keep you posted!