The Fourth of July
This post is long overdue, but for the 4th of July, I spent the entire day with my little, Megan, and her family exploring Nashville!
We started off our day with the Hot Chicken Festival in East Nashville.  Even though it was pouring rain and fairly chilly, there were still a ton of people at the festival–which consisted of many booths selling hot chicken from a variety of Nashville's hot chicken restaurants, as well as food trucks such as RetroSno (my personal favorite) and The Peach Truck (all peaches, all the time).
For those of you not in the know (aka me before July 4th), please refer to this link for a run-down on the Nashville treat. I had only heard good things about restaurants such as Prince's and Hattie B's, but had never had the opportunity to try it for myself, so the festival presented a prime opportunity.  After waiting in a huge line for about 45 minutes, the moment of truth had come. I bit into the hot (both temperature and spice-level-wise) dish and immediately regretted how long into my time in Nashville this first taste occurred.  I could have had three more years of deliciousness! Alas, I'm a rising senior (YIKES) so I only have one more year to take advantage of living in the home of hot chicken, and believe me, I'm going to make the most of it.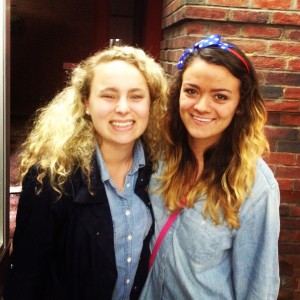 After the festival, we all headed back to our various homes/hotel rooms, since everyone underestimated the rain and wanted to change.  After a tv-watching break, we headed back out into the damp outdoors in search of dinner.  We ended up eating at Taco Mamacita, a few blocks from the Commons.  After a tasty dinner of tacos and salad, we headed downtown to the riverfront where I met up with Victoria and her mom to listen to The Band Perry perform live and watch the fireworks!
All in all, it was a great day despite the weather, and the rain stopped in time for the spectacular pyrotechnics!