Summer Celebrations!
Last Tuesday was the day after my dear friend Rachel-Chloe's birthday. Since her family was in town for the actual day, Caitlyn and I decided to throw a birthday bash for RC the day after–and we were sure to do it in style.
Normal school year birthday celebrations normally would consist of a bunch of us gathering together at a restaurant for dinner, but since we are living the scarily realistic adult life, we decided to have the dinner at our sublet, which additionally gave us the chance to practice our hostessing skills.
We finished work at five that day and sped home on the bus to begin preparations for our evening festivities. We cooked a full 3-course meal–appetizers, dinner and a side, and finally dessert! We've certainly grown in our cooking skills over the summer, and it was fun to have a chance to show them off to our friends.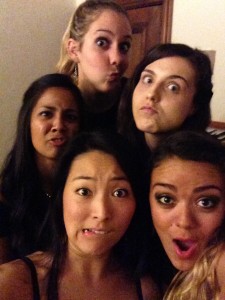 Next year I'm living in a Towers suite with Caitlyn and four others, and all of them except Ashlin are in Nashville, so they were our guests for the evening. It was so fun to get to cook for friends and celebrate RC's birthday–we even dressed up for the occasion. Having people over to our "home" certainly helped solidify the scary feeling of adulthood that has been lurking over my shoulder this summer. I'm excited to soon be living back on campus, and to soak up the feeling of being a college student for one last year.