Wrapping Things Up
In one week, I will be done with Sophomore year and done with half my college career. (assuming I don't choose to take a victory year). It's unbelievable how fast this year especially flew up. Only yesterday does it feel like the summer had just ended and I was preparing for my 2nd year at school. Time really does go by when you're having fun and Vanderbilt, I must say, is a lot of fun.
Today I finished up my 2nd exam, Social Psychology, which wasn't that bad and now I enter the endless fun that involves studying for Biology and Organic Chemistry. There was sarcasm in the past sentence somewhere. Although it's not going to be a pleasant week, I'm not too worried about it all. I have plenty of help if I ask for it whether it be through the professor, the TA or fellow classmates, if I need questions answered there is always a way. And I think that's one of the great things about Vanderbilt. Since it is a relatively smaller school of only seven thousand undergraduate students, Vanderbilt feels like a community and as a result, it is easy to get in touch with both Professors and TAs and to set up an appointment with them. The perks of going to Vanderbilt.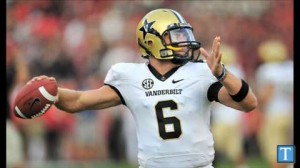 In other news, the Vanderbilt Football Team wrapped up their Spring Football Season with the Black and Gold team. The team overall looked very strong especially the defense with an outstanding performance in the first half. It looks like Austyn Carta-Samuels, my newest Facebook friend, will be our fearless leader in the beginning of the 2013-14 season and I'm looking forward to see what he can do for us in the upcoming season. The expectations are high, but I believe that Carta-Samuels can guide us to new heights [such as the National Championship Game].
Wish me luck on my exams!