Sectionaaaaaals
This semester has been a little less filled with ultimate frisbee than I'd have liked. I couldn't make the first tournament due to Alpha Chi Mom's weekend/initiation. The second tournament I could only go to the second day since it was over spring break. Our third tournament was in Atlanta, but it got cancelled due to lots of rain/lightning. This was extremely disappointing since we had already made the four hour drive down (however, we did get some factory-fresh Moon Pies in Chattanooga). Last weekend, I finally got to play some ultimate frisbee again since it was Sectionals!
Sectionals were held in Tuscaloosa, Alabama on the University of Alabama's campus. Both men's and women's sectionals were held in the same place. For the men's team, 5 teams could advance to Regionals, while for women, only one team got to go. Coming into the tournament, there were 7 women's teams, all from the south, and we were seeded fourth. Saturday, the weather was a little hot, but we did really well and went 3-1. The only game we lost was to Tulane, which was seeded first. A lot of the teams we had played first semester and it was crazy to see how much everyone had improved.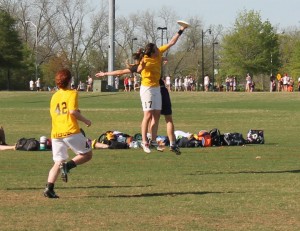 One of the cool things about frisbee tournaments is that I get to see lots of different colleges in the south. This tournament was literally held on the University of Alabama's campus, so we got a nice taste of what their campus is like and I saw their stadium. The campus was huge and there was tons of land since Tuscaloosa is mostly a college town. Apparently they need buses to get from one side of campus to the other just to make it to class on time- very different than Vandy.
Sunday morning, the weather was not nearly as nice as Saturday. Thankfully we had a first round bye, so we could delay running around in the rain and wind a little bit longer. Our game against Auburn was insane- there was standing water and tons of mud on the field and the wind took the disc away after almost every throw. We won though and ended regular play 5-1. We advanced to the championship bracket, only to play Auburn again. It was a little strange to play the same team two times in a row, but it was how the numbers worked out. We won again and advanced to the championship game against Tulane! The game against Tulane was crazy and I spent most of it cheering at the top of my lungs. We were up 10-7 and only had to score one more time. Once one of our captains caught the disc in the end zone, we all rushed the field screaming and freaking out because we WON SECTIONALS, which meant that we got the single bid and we're advancing to REGIONALS!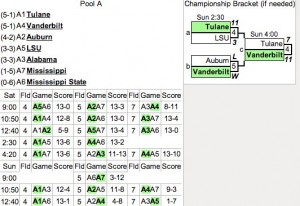 Unfortunately, I won't be attending Regionals since it's in the middle of finals. But I could not be happier with my decision to join VUDU (Vanderbilt University Dame's Ultimate) this year. They have accepted me graciously and were incredibly welcoming, despite the fact that I haven't played a sport in years and am not the most athletic. I have loved getting to know every girl on the team and having the chance to travel to nearby states on the weekends. I would definitely encourage others to try something different during their college years as my experience playing frisbee has been so much fun. I can't wait to continue with VUDU next year!