Holi Moly!
When I get stressed about school, I like to take a short study break. This past Sunday was a busy day for me, as I had to prepare for a paper, test, and project all due on the same day (I promise this doesn't happen too often in college). I was a little ahead of schedule in my studies (thanks to not procrastinating), so I decided to participate in Holi, the festival of colors. Each year, the student organization Masala-SACE hosts this event.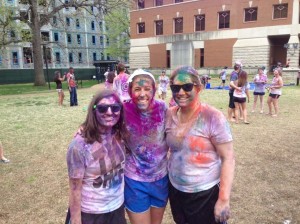 For anyone who has run the Color Run, Holi is basically the Color Run without the running (I know, it already sounds more appealing!). However, I spent most of the hour running around and attacking my friends with handfuls of colored powder. The event lasted from 3 PM to 6 PM, but people came and went throughout the three hour period. It was nice to take an hour out of day to spend time with friends and decompress!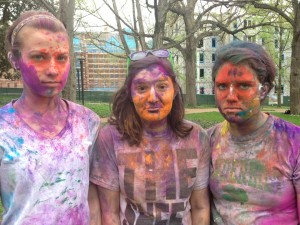 Events like Holi make me appreciate the opportunities Vanderbilt offers to learn more about other students' customs. There was widespread participation from students of all different backgrounds. I was able to reunite with friends, and experience a unique tradition at the same time. The only downside? I went to CVS Pharmacy after Holi to pick up medicine, and the Nashville community out of the VanderBubble was definitely intrigued (and concerned?) about my physical appearance. Regardless of how ridiculous I looked, I had a great time, and I am looking forward to participating in Holi next year!