Guest Post: Paul's Perspective
As the school year wraps up, my first-year friend Paul reflects on why he chose Vanderbilt and what he loved most about his first-year experience:
My path to Vanderbilt looks a lot different than that of your typical Commodore. This is mainly because it starts in the Caribbean Sea on the island of Jamaica. But also because of the twists and turns it went through before finding itself here in Nashville. I applied here knowing little more about it than its name but I came here after finding out everything that I needed to know to make it the best school for me. After a whole year here I know even more of the reasons that make it #17 in the country. From academics and social life to the Nashville community and culture to Vanderbilt's commitment to making attending financially possible, life here has been phenomenal. Looking back, I see so many things that made Vanderbilt the right choice.
One part of my freshman experience that I enjoyed most, and expected least, came from the First Year Writing Seminar that I took in the fall. I missed my original registration window and signed up late and of course all of the seminars I had been planning on doing were full. So on a whim I signed up for MUSL 115F: Shakespeare and Music. I figured, hey, I enjoy music and Shakespeare can't be too bad. I had no idea it would end up being my favorite class and my closest professor and the key factor that led to my decision to add English as a double major. The papers were challenging, but Dr. Cyrus made them enjoyable and each section equipped us with tools that we would need for future classes and papers. And did I mention all the movies, operas, and the time we went to Shakespeare in the Park at Centennial? Amazing. And outside of class, I've had more fun than I could have imagined. Between tailgates for football games, date events, themed parties, weekend trips out of town, concerts, and just hanging out somewhere on our beautiful campus, I've had more than enough to do. And the friends I've made along the way are definitely going to mean even more than all of the fun stuff alone.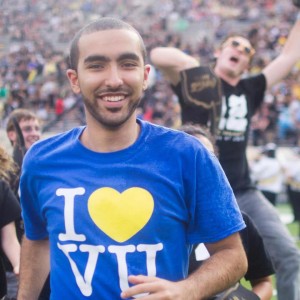 So what made me decide to come to Vandy? Did I just know that all of this was in store for me? Not quite. After getting accepted, I decided to take a look at what coming here would really mean. I read my packet, I read my letter from my admissions officer, I read the email I got from my Global AmbassaDore, and I began to fall in love. Vanderbilt is a special place, with people and opportunities very different from anywhere else. Academically it was maybe a few rankings below another school I was considering, but when I looked at the big picture I knew it would be better for me. It's like I've heard it said by others–there are schools that might be better than Vandy in one or two factors, but there isn't a school that beats it in all of the ways that it is amazing.