Fun Times in Vandyland
Friday night, I went to dinner at Chuy's, which has quickly become a Vandy favorite ever since its addition to Taste of Nashville. Taste of Nashville is a program that allows students to eat at local restaurants using meal money, which is built into most meal plans. After a delicious dinner, I went to an event called Secret Church at the BCM. Although I'm not a member of the BCM like many of my fellow bloggers, I will occasionally stop by. Secret Church is a lengthy 6 hour event, broadcast from a church in Alabama all over the world. They occur twice a year and each focuses on a specific topic. I love it because I learn so much about God in one night. The "secret" refers to the persecuted church, which the idea was based on.
Saturday morning, I was up bright and early for the Color Run! One of the great things about living in Nashville is that there are always events going on. The Color Run is a 5K where everyone wears white and gets color thrown at them throughout the race. I did the run with the club frisbee team and it was so much fun! Somehow all 10 of us managed to run all 3 miles together! I'm still wondering how I managed to run three miles straight, given my general lack of athletic ability (I did no sports in high school), but it went by pretty fast with all the color. At the very end, there was a dance party where they threw out more color and we took plenty of pictures.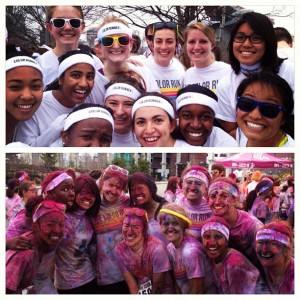 While I spent most of the day Sunday studying, I did get to play some frisbee at night. Our intramural team from flag football in the fall made an intramural frisbee team. Intramural sports are tons of fun and very low key. There is only one game a week, so it's definitely manageable with a busy schedule. Plus, it's a great way to get some exercise and take a study break. Our team has a lot of club players on it, so we dominated against the other team. But it was still so much fun to play and a great end to a busy weekend!