A (Not So) Melo Goodbye
For most of us, this is our last weekend at Vanderbilt, decidedly one of stressful cramming, overnighters hauled along successive nights of insurmountable worry and an endless supply of our favorite Bongo Java coffee, and the prospect of imminent leaving. I will be following up later this week with some final thoughts on my freshman Vandy experience, but for now I shall make do with a little reflection on some immediate goings-on.
Last weekend marked the last time the Vanderbilt Melodores performed this year. Having come to terms with my legitimate membership of the group and thrown the "Melobaby" jacket off just this semester, it was with deadweight of a heart that I took to the stage last Sunday and sang alongside three of our seniors who gave heart-wrenching swan songs and immortalized their presence as not only Melodores but also Vanderbilt icons in their own rights. Among the multitudes of highlights that constituted the night occurred right after the intermission act, when our founding father waltzed on stage and showed a video of our outgoing seniors' auditions, some three years ago now. Later in the night, we performed one of the hallmarks of our repertoire, Sam Cooke's "A Change is Gonna Come," one final time. For we on stage, and for a considerable portion of the audience, the night was an emotional-fest of feelings and music and tears hurriedly wiped away.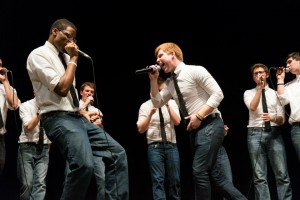 Seth Johnson, Turi Clausell, and Will Timbers will forever remain friends, singers, but most importantly, brothers in song.