ECN Lab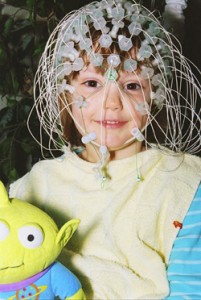 Lately, I've been spending a lot of time in the Educational Cognitive Neuroscience lab, where I do research this semester. The Neuroscience major requires two semesters of research and I found this lab because four of my sorority sisters work there too.
After emailing back and forth and even having a Skype interview last semester, I joined the ECN lab in January when I got back from studying abroad. The lab has different projects, all overseen by psychology and human development professor Bruce McCandliss, and I'm on the Sensitive Period of Speech Production team. We work with children between the ages of 6-17 to examine how their brains respond to speech sounds throughout development.
Some days I work on recruiting participants and calling families to schedule two-hour sessions with us, and other days I analyze data on the computer. When participants actually do come in, we play word/picture games and then use an EEG to measure brain activity while they watch a G-rated video and listen to speech sounds.
I really like working in this lab because I get to interact with so many people. I've done research in a biology lab before and while I liked studying cells and performing experiments, I got a little bored from the lack of human contact. At the ECN lab, I get to study the actions of the brain while talking to little kids about One Direction…it's pretty awesome.