Derby Days '13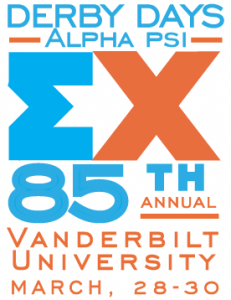 It's that time of year again…Derby Days!
As I've mentioned before, Derby Days is a yearly philanthropy event hosted by the brothers of Sigma Chi. All the money raised throughout the week goes towards the Leukemia and Lymphoma Society.
Sororities compete to win the most points in all different kinds of activities. The dance competition, field games, and flag football are some of the more conventional ways, but another crowd-pleaser is by "tagging" (read: tackling) one of the Sigma Chi brothers running around campus with a derby hat on. I've never personally seen this happen but here's an exact text from one of my friends yesterday: "That derby wearing boy almost ran me over! The chase is getting intense." I think this is a unique and hilarious way to get more greek students involved in Derby Days.
The other big point-winning activity during the week is the infamous Derby Hunt! There is a black derby hat hidden somewhere on campus, and each day there is also a blue derby hidden with a clue to the black derby. Clues are released every morning at 6 am and people hunt at all times of the day. This year's black derby clues were:
-Where am I? Not a common place
-Almost there. Don't look up now.
-Looking for the keys? Start at the beginning. Backwards is forwards.
-"You want answers?" "I think I'm entitled"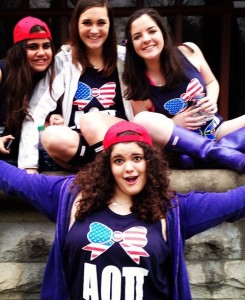 Guess who found the black derby…AOII! My sorority hasn't found the derby since I've been at Vanderbilt and the most exciting part was that I was kind of involved in figuring out the clues. It was a great group effort though, because we had a Google doc that anyone could update with ideas, so a sophomore first came up with the idea of Bishop Commons. Apparently that's the area between Calhoun, Furman, and the Law school, that isn't extremely "common" but technically has it in the name. Secondly, Bishop's Grave is there, which is where Holland N. McTyeire is buried ("don't look down"), who was one of the founders of the university ("start at the beginning"). There also happens to be a statue with a man on a horse in front, which connected it even more to the derby. The last clue was from A Few Good Men so that's when we really thought it was located near the Law school (it was hidden in the bushes right behind it).
Seeing the Vanderbilt Derby Days facebook page congratulating us on finding the black derby was so exciting, I had to make sure I'd read it right. Then our Activities Chair posted this picture in our own facebook group and the celebrating began!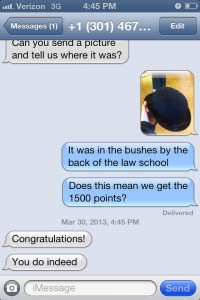 We got third place overall and had an awesome time doing it. Let's just say I'm already getting excited for next year.