Breathe!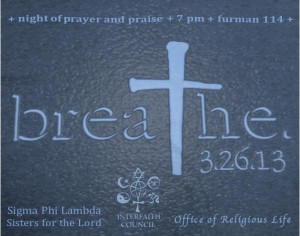 Yesterday I was fortunate enough to participate in Breathe–Sigma Phi Lambda's night of prayer and praise. Victory has been invited to perform there since I was a freshman, mostly because we share several members. However, last night's event was so much more extensive than any night of prayer and praise I have ever attended. It was a campus-wide inter-denomination praise event, and I think it really encapsulated the interfaith (or in this case, interdenominational) nature of Vanderbilt's campus.
Sigma Phi Lambda (colloquially known as Phi Lamb) is the Christian sorority on campus. It is not a Panhellenic sorority, however, so members can still pledge into the Greek system with much of the student body. They do, however, function as a typical sorority with members that love one another fully and adore spending time together.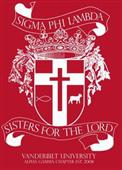 Phi Lamb's night of prayer and praise happens once a semester, and it serves as a place where people from all over campus can come to sing praises to God, pray, and read the Bible together.  The event usually occurs on a week night from 7-8 or 7-9 and is a nice study break.  It is pretty low-key with only maybe 20-30 people in attendance (usually the members and their closest friends).  Last night, however, was much more extensive.  This time, the sisters of Phi Lamb invited praise groups from several prominent religious groups on campus.  The diversity was extensive—there were groups from Voices of Praise, the Navigators, Vandy Catholic, the Church of the Latter-Day Saints' campus ministry, Victory a cappella, BYX fraternity, Baptist Christian Ministries, and many more!  We filled Furman 114 (a large lecture hall)!  Each group took turns leading worship or presenting a song/dance that they had developed.  To me, the event demonstrated Vanderbilt's emphasis on interfaith cooperation, and particularly in this case, inter-denominational worship.  Even though everyone there had differently-nuanced beliefs and God and Jesus Christ, we were able to come together and worship him in unity.
The entire night was incredibly spiritual—even after we closed out in prayer, a few members from the audience asked to sing the final song together again, so we did, with much clapping of hands and rejoicing.  Overall, the event extended beyond its 9pm-estimated finish time, but it was completely worth it.  I felt rejuvenated and connected with so many different groups on campus.  I really hope that this type of united worship can become a regular occurrence.
…Until next time! :)