Billy Joel: My New Best Friend
Okay, so he's not really my best friend and I didn't actually meet him.  I did get an opportunity to see him speak last Wednesday in Langford Auditorium though!
Before winter break, it was announced that Billy Joel was coming to Vanderbilt! While I am not necessarily the biggest fan that you will ever meet, I knew what a rare opportunity it would be for me to hear him speak at Vanderbilt, so I trekked to Sarratt Box Office one morning with my friends, and we stood in a ridiculously long line to secure tickets for only 15 dollars! (Seriously, what a deal.)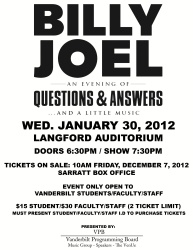 The event, open only to Vanderbilt students, faculty, and staff, was called "An Evening of Questions and Answers and a Little Bit of Music."  And it was exactly that! For two and a half hours, Joel stood on stage and took any questions that students had for him–from how to make it in the music business to what a particular song meant for him.  Interspersed throughout his answers, Joel would play bits and pieces of his music (and a couple of times, a whole song!), however mostly just to illustrate a point he was trying to make.  I kept turning to my friend and saying that I wanted to be Billy Joel's best friend.  He was such a funny and engaging speaker, and it was apparent that he really wanted to be there.  Since he doesn't make very many public appearances anymore, this really was an opportunity that I'm not likely to get again–all thanks to the various committees and organizations that worked to bring him to Vanderbilt.
I'm not sure what I was expecting when I bought that ticket two months ago, but what I saw was definitely not it–it was so, so much better.
(Also, a freshman at Vanderbilt, Michael Pollack, got the opportunity to perform New York State of Mind with Billy Joel. Casual.)