A Sweet Tooth Satisfied
In my dream world, I would grow up to be a famous food blogger and get paid for eating gourmet food day in and day out in glamorous cities like New York and Paris.  Unfortunately, this is not my fantasy world, and I am eating 14 out of 21 meals on the Vandy meal plan. Don't fear, though, prospective future Nashville dwellers, because Nashville is full of delicious noms to satisfy every palate.
Let's be real though, EVERYONE loves fro-yo and/or ice cream.  So, here's your Nashville guide to frozen treats for those days when you don't do so hot on that chemistry exam. Or those days when you just feel fabulous. That's a good reason to indulge, right?
1. Jeni's Ice Cream: I've only been to Jeni's once, but I think it's fair to say that it changed my life. This quaint ice cream parlor sells tiny scoops of the most off-the-wall flavors.  Ann's favorites are rose petal and avocado but I'm more of a rootbeer and lavender gal.  Vicky swears by the goat cheese and roasted cherry ice cream, but I'll admit, that one makes me a bit hesitant. Jeni's ice cream is a culinary adventure for the taste buds, to say the least.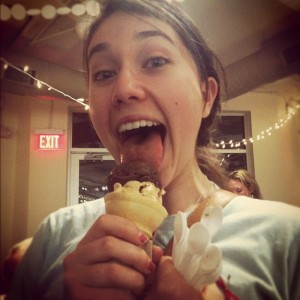 2. Sweet Cece's: Sweet Cece's is a Vandy student favorite, especially this year because it's now "on the card", which means that we can swipe our Commodore Cards to pay straight from our meal plans! This fro-yo hot spot is a short walk from campus, close to Commons, and it has a rotating list of flavors like Cake Batter and Red Velvet with a few healthier, fruitier options. There are toppings as far as the eye can see, but I usually end up with a very homogeneous mixture of various forms of chocolate.  The fro-yo here is self-serve and relatively cheap (pay by the ounce), but added toppings spike the price up quickly, so be careful! Sweet Cece's is my go-to place to bring my Nashville guests because it makes my taste buds really happy. I can't stop talking about my taste buds.
3. Mike's Ice Cream: Mike's is a little ice cream shop in downtown Nashville with an old-fashioned feel, complete with barstools and all the classic flavors you'd ever want.  I'm drooling right now.  Mike's is a good place to go for the experience because you can grab a waffle cone and stroll down the row of honky-tonks and little bars on Broadway to get a true taste of Nashville. After watching the Grammy Nominations Concert or catching the Rascal Flatts concert, Mike's is a great way to top off the night.
4. Pied Piper Creamery: Though I haven't been to this ice cream eatery, it is high on my list of must-go locations when I convince someone to drive me around in their car. Located in East Nashville, Pied Piper boasts a very friendly staff and an extensive list of ice cream flavors that will make you chuckle, like Rockin' The SubBourbon, Someday My Mints Will Come, and The Cereal Killer just to name a few. This ice cream shop was voted "Best Ice Cream" by the Tennessean's 2011 Toast of Music City, and it definitely lives up to the hype.
5. Pinkberry: This froyo shop is about a 2-minute walk from my current dwelling place (Vandy-Barnard), and my crazy friend Mary Kate is obsessed, so we are regular customers.  It is no longer "on the card," but the serving size is just right if you get the tiny cup.  There is a plethora of fresh fruit options to top off your tart frozen yogurt, which makes me feel a little healthier.  Mary Kate usually asks to try 2 or 3 flavors before she asks for a certain flavor to purchase, but she just does it to get more free frozen yogurt.  I don't blame her, Pinkberry is rather delicious (and nutritious, in my mind).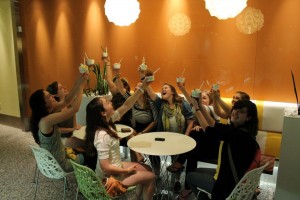 I apologize for how extremely dramatic these ice cream shop descriptions turned out. I must be really passionate about dessert.