What a Fun Weekend in Nashville
After two weekends of recruitment, I was looking forward to some free time this weekend. Unfortunately, I've been super busy-but in the good way! It's been a great weekend, and we don't have classes tomorrow because of MLK day!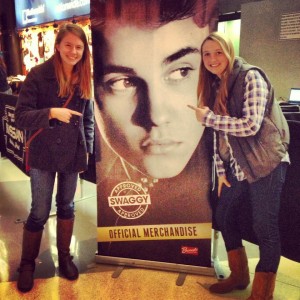 Friday night my friend Kelsey and I went to see Justin Bieber (yes, I did just turn 20. don't judge) at Bridgestone Arena. The concert was so much fun!! While we were surrounded by lots of small children wearing Swaggy hats, it was an awesome night. Cody Simpson and Carly Rae Jepsen opened for him. Last year my ASB site made an entire music video along with a dance to Call Me Maybe (Sam choreographed it!) and I was definitely dancing along when she sang it. There was always something going on during Justin Bieber's set with all the dancers, costumes, the videos playing, and fireworks (which caught the stage on fire for a second-oops!). I absolutely love concerts and this one definitely had the most production elements I've seen yet. After the show, we were waiting to meet up with people and even saw one of the guys from Hot Chelle Rae– you never know you might see at a concert in Nashville!
Saturday I was off to ultimate frisbee practice. It was really nice to throw again, since I haven't in over a month. For dinner I got to eat off campus with a bunch of girls from my floor last year. We went to Music City Flats, one of my personal favorites. They have all types of pizza toppings, except it's on flatbread instead. Afterward some of us went to Pinkberry, which rivals Sweet Cece's for being my favorite froyo place. It was so nice to get off campus and hang out with friends. After dinner, I went to the house to watch Bridesmaids with some of my new sorority sisters and we had so much fun playing board games.
It's been such a fun weekend but unfortunately I haven't gotten any work done. Looks like MLK day is going to be spent catching up on homework!