Hanging Out with the SEC
The title of this post might lead you to think that I am about to tell you something about sports. Well, my friend, I must inform you that you are unfortunately incorrect, because though the SEC is a classification typically associated with sports, this weekend consisted of my journey to another SEC school to meet with students from other BCMs (Baptist Collegiate Ministries).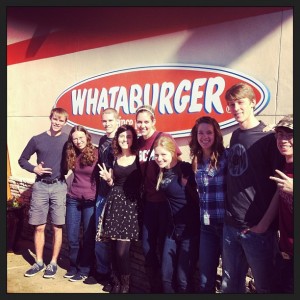 Normally, the BCM at Vanderbilt Place goes to a state conference every year, where we meet up with students from around the state. This year, although we will still be going to the state conference, we also journeyed to meet with students from other SEC schools in Tuscaloosa, Alabama–the home of the University of Alabama.
We joined other students from BCMs at SEC schools to talk about what we're doing on our campuses, listen to campus ministers, and discuss what we learned in smaller groups called "community groups". My group had students from both Alabama and the University of Tennessee–as one of our group members summed up the weekend perfectly with the phrase "Divided by football, united by Jesus."
While there, we partook of the local culture by experiencing some typical Alabama bar-b-que and learning the proper usages of the phrase "roll tide". The conference was a really neat chance to meet other students from the SEC who share something in common with myself. There was, of course, some friendly rivalry and our small group was sure to do several "anchor-downs" but we definitely bonded with other schools and on the car ride back, the four others and myself in the car reflected on why we had each chosen Vanderbilt. One thing that came up with everyone was the community–we all love the feel of Vanderbilt and the people we've met there. Yes, that sounds cheesy, but hey, it's the truth–and it's always nice to take a minute amidst the ever-crazy and stressful routine of school to remember why I chose to go to the best school in the SEC.